Valentine's Day is here and celebrating it without a Valentine's special cocktail is impossible. Prepare this blushing rose for the blushing beauty in your life.
February is the perfect time to celebrate your love. And what better way to celebrate it than by preparing a Valentine's special cocktail for your special someone? That brings us to our cocktail for this month: Blushing Rose. It is a beautiful cocktail that features a lovely mix of floral and fruit flavours perfect for Valentine's Day. Although we stand by the fact that you don't need a special occasion to enjoy cocktails, we still recommend making something special for this special day. And that's why this cocktail is perfect. It is light on alcohol and has a fascinating bouquet. The complex flavours of Ty Ku Liqueur, luscious pomegranate juice, and rose nectar give a floral sweetness to it that is perfect for this day.
INGREDIENTS:

Ty Ku liqueur: 4 ounces 
Pomegranate juice: 2 ounces 
Rose nectar: 4 ounces
For garnish: Lime wedges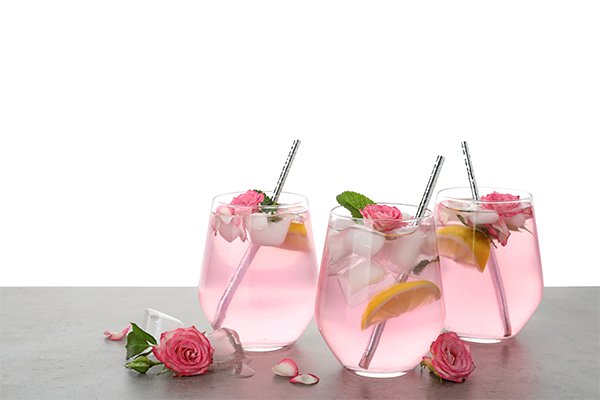 INSTRUCTIONS:
1. Get a hold of all ingredients and keep them ready.
2. Take a mixing glass and fill it with ice. Pour in the Ty KU, pomegranate juice, and the rose nectar.
3. Make sure to stir it well until everything mixes up.
4. Strain the mixture into stemmed glasses. You can also serve it in an old-fashioned glass over ice for a more traditional feel.
5. Garnish with lime wedges. Serve chilled.
TIPS
1. Rose nectar is a little hard to find. But you'll have the best luck in a natural food store. But if you still are not able to find it, use a rose simple syrup. Food-grade rose water gives it the rose flavour and it is easy to make at home. But use a little less than you would use the nectar as it is a little sweeter.
2. For a drink that feels more refreshing, add in some lemonade to the drink.
 3. You can also top off the drinks with sparkling wine. And if you want to go all out, get out that nice Champagne bottle!
 4. An important tip is don't try to replace the Ty Ku. It is a unique Soju-based liqueur so it has no substitutes. You could sub in vodka, rum, or tequila, but the drink won't taste as good.