Get rid of the all-white obsession, black bathrooms are the latest trend in the bathroom world! If black is the colour of your soul as well, here is how to get the black bathroom of your dreams!
All black is the new white and where better to utilise this trend than in the bathroom? Black bathrooms are all the rage right now. Stylish, sophisticated, they offer a great canvas to play with hues, textures and styles to create a bathroom that would be the envy of all! Given the fact that designing a bathroom is almost like designing your personal sanctuary, you need to design it in a way that it is pleasing for you to spend time in. Although black is the trending colour right now, it is also one that divides opinion. Many hold the opinion that black bathrooms don't look good. On the contrary, an all-black bathroom can be extremely soothing and pleasing to the eyes. And contrary to popular belief, black bathrooms don't need to look glum, morbid or grunge. If you use it carefully, black can actually add depth, warmth and cosiness to your bathroom. We're convinced that by the end of this article, even the most passionate arguers against black will be convinced that all-black-everything is the better choice! Read on!
1. MAKE USE OF A VARIETY OF TEXTURES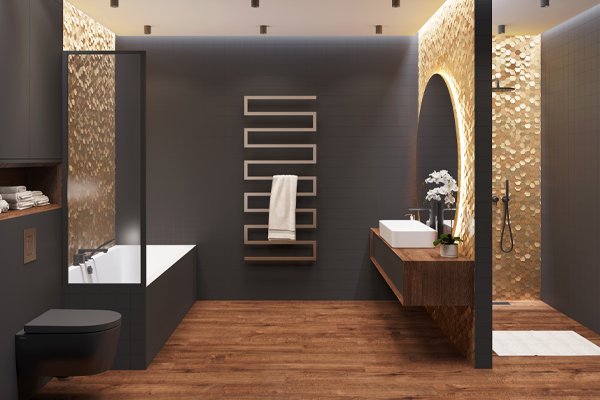 Make use of a variety of textures
Although a black bathroom looks classic and dramatic, there is a trick to achieving this. And that is to use a variety of materials and textures. Monochromatic is far from boring, provided you add in depth and subtle variations. If you're going with a plain, jet-black countertop, use textured tiles for the wall behind the mirror. Play with shades of black, use a dark shade for the wall, a lighter one for the tiles and so on. You can also use different colours for the highlighter walls to add in contrast.
2. USE BLACK MARBLE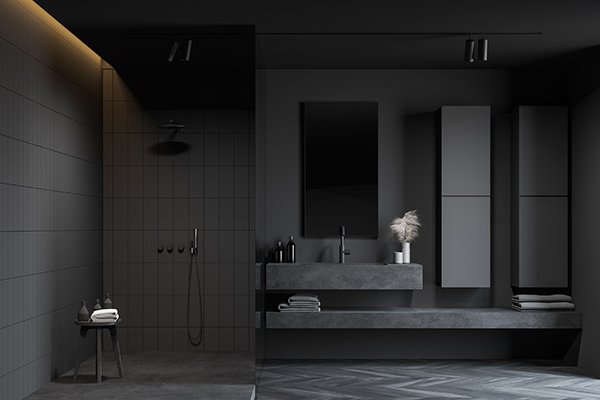 We love white and gray marble as much as anyone, but we also feel that its time black marble got its much-deserved due. Now, the devil is in the detail here, so play with it a little. Use a jet-black marble, or for even more of a luxurious feel, go with one that has specks of colour on it. If you're all for subtle juxtaposition, display a potted plant on the countertop!
3. FLOORING
Pay attention to flooring
If you want an all-black bathroom, go with black stone tiles. Polished finishes are less porous and long-lasting, but slippery for bathrooms. So, use rugs or mats. Alternatively, you could use a matte finish for the floor. If you want a bit of a contrast, you can go for wood -patterned tiles. They provide great contrast and look amazing.
4. HARDWARE
Hardware choice makes a difference 
Now, we come to the hardware. For a luxurious feel, add in gold hardware. You can also go with black hardware – that also adds another level of depth to the overall bathroom. Gold hardware adds just the right amount of brightness and contrast to offset the moodiness of a black bathroom.
5. LIGHTING
Correct lighting is important
All-black bathrooms can feel stuffy and dark. So, the key here is to make ample use of lighting – both natural and synthetic. If you live in an area with ample natural lighting, incorporate windows to take advantage of natural lighting. If windows are not your thing, add in as many light sources as you can – you can even add in coloured lighting!