Want Leverage In The Game Of Fashion Trends 2023? Get Ready To Rule The Year With Our Trend Predictions! Start Taking Notes Now!
The Paris Spring-Summer 2023 had a festive spirit and evoked imagination, with pieces that married fashion and art. They surprisingly seem to have ramped up fashion's escapist potential in 2023, i.e., a roaring success set to still have a spot in your wardrobe for the foreseeable future. These fashion trends are sure to find a spot in your wardrobes and are what your fashion wishlist should be flooded with. Fashion industry's use of escapism is certainly not novel. From gothic fantasies to collections dedicated to improvising boring denims, designers have long positioned their clothing as a means to taking the industry to a newfound fantastical frontier. Folks, the latest collections to come from fashion's heavy hitters is going to add fire to your closets with show-stopping outfits. So, read on to get ahead in the world of glam.
1. OPTICAL ILLUSIONS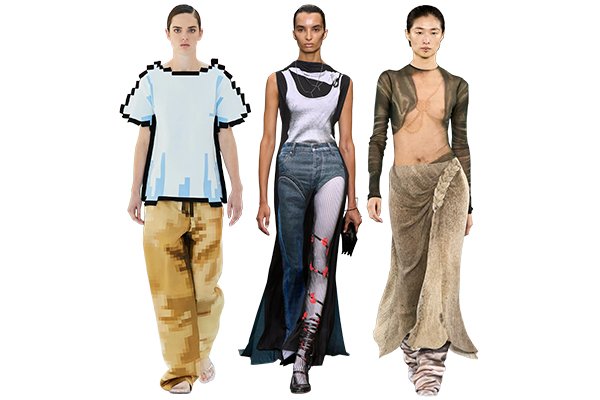 In displaying what was an ingenious form of creativity, fashion played with optical illusions, unveiling pieces that transform the ordinary world into extraordinary. With pixelated shapes, trouser skirts and faux topless effects, the body was celebrated blissfully with futuristic accents at the Loewe, Y/Project, and Balmain runways. The influence of digital worlds and their attention-grabbing aesthetics are carried over to the real apparel with printed chromatic shines and gradients acting as optical illusions. Designers are increasingly focusing on varying geometric patterns, 3-D illusions, and controlled blurs to accentuate the wearers' physique and mood. It's an experience that will just make you ask, 'Is it coming to life? Is it real? Is it coming out of a particular piece of work?' And, as this element has achieved mastery in tricking our eyes, it has a long way to go in 2023. Keep your closet space ready folks!
2. GOTH SLAYS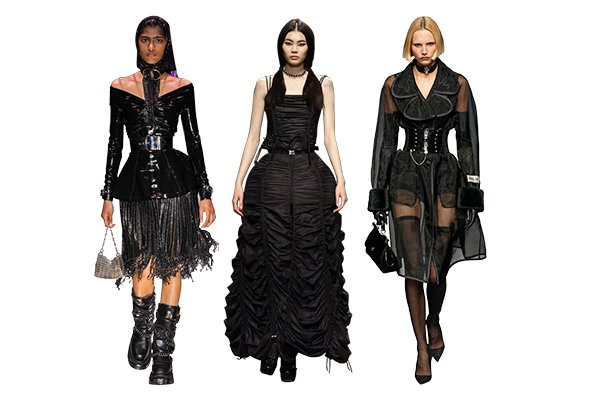 Literal interpretations of the gothic style were replaced by a soft grunge take on the aesthetic. At the Paco Rabanne, Christian Dior and Dolce & Gabbana shows, the colour black dominated the goth girl look, which came complete with a play jaw-droppingly on dramatic volumes and transparency. It offers a fashion forwarded extension of the '90s fashion trends. They have also dominated – minimalist, with plenty of sheer, slashed and strappy detailings, gothic glamour sticks to a dark palette of black and purple hues, and gives a sophisticated development to the goth trend. It rightly sets cues of the perfect cocktail silhouette dress idea to shop this summer and can be cherished for seasons to come. This is a trend that you can be as a daring as you like with, so go for it!
3. DIY DENIM ALL THE WAY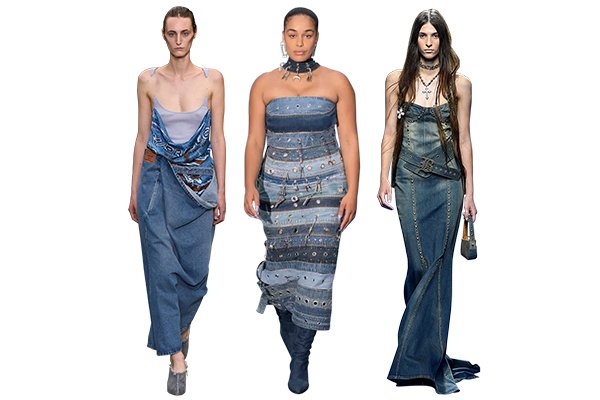 All you need to try out the DIY denim trend for yourself is a pair of scissors, a dress or pair of jeans and some imagination. Get creative and take inspiration from the looks presented at Blumarine, Y/Project and Marine Serre runway shows. Do it for 2023, as fashion is having a moment! Denim has been working its way up the fashion ranks for the past few seasons so if you've yet to swap your skinnies for something looser, now's the time. Ease yourself in with a mom jean and work up to a boyfriend or wide-leg silhouette and keep the rest of your outfit fitted to help balance the voluminous proportions. Do you wonder what's the naughtiest way you can wear your denim this year? Head-to-toe of course! As in 2023 you can't wear one denim piece, you have to wear them all at once.
4. FRINGING AT IT'S BEST
Fringing embellished a long pristine dress, a classically chic cape and an outfit ensemble at Givenchy, Michael Kors and Alaia ramps. This take on fringing is an awestruck moment for fashion. From its bohemian aesthetic, to the detail adorning even the most sophisticated pieces each outfit's fringing makes it shine at its best. And this glam makes the trend to stay in 2023 and further years to come! This year party dresses will give themselves a fully fringed makeover for a look that will be hard to resist as the fringes gives every item of clothing added depth and movement. Tassels and fringes are a great way to add drama and can be taken as far as you fancy!
5. CHIC TRANSPARENCY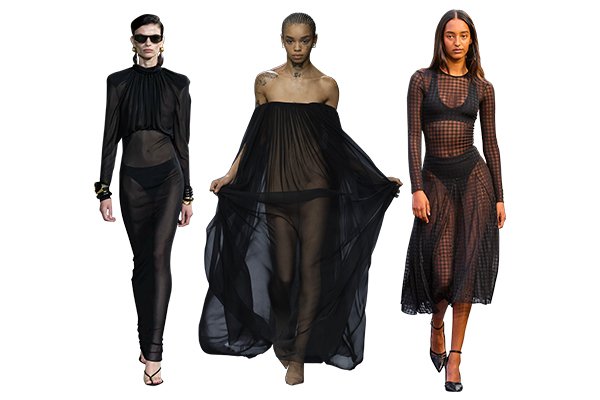 This monomania comes with a side of perfectly calibrated transparency to create a silhouette that is sexier than ever. The
must-have black dresses of this year already hinted at glimpses of the body at Saint Laurent, Valentino and Ami fashion shows. It wouldn't be crazy to think that this kind of statement can exalt a corporeal glory and will seep into reigns of creativity. This makes us think that with this trend in this year fashion will be synonymous with sensuality and integrating its minimalistic flair. Welcome 2023 with array of upbeat and in turn sophisticated, with sexy and glamourous chic transparency outfits.