Just Like Us, Fashion And Entertainment Never Goes Out Of Style! Dive In To
Have A Touch Of Both Together!
Buckle up, fashionistas, because it's time to take your front-row seat for the hottest teen show. We hear "Never Have I Ever"! Yes, you got that absolutely right, our favourite teens are back at it. Apart from the storyline and the massive representation of South Asian culture, the show is making some amazing fashion statements. It has relatable and attainable fashion that left us naturally obsessing over standout dresses, and is full of florals, boho, tie-dye, knit, and colour coordinated looks. From Devi's Gen Z fashion to Kamala's boho millennial fashion, the show has plenty to get fashion inspiration from. And we fashion connoisseurs can't leave this moment. From Devi having a super unique wardrobe with no fear of fashion risks to Nalini having a fashion-forwarded elite dressing style, we've curated it all! We've rounded up steal worthy outfits from "Never Have I Ever" that capture all the glitz and glamour in the world of fashion. Are you ready to recreate your favourite character's look? Hop in!
THE APOLOGETICALLY AND UNAPOLOGETICALLY HERSELF
Elie Saab, Bead Embroidered Long Dress Approx. Rs.8,40,610
Tom Ford, Teal Padlock Embellished Velvet Sandals Approx. Rs.1,43,480
Benedetta Bruzziches, Lucia in the Sky crystal-embellished silver-tone and satin tote Approx. Rs.1,97,153
Crystal Haze Jewellery, Serena gold-plated cubic zirconia necklace Approx. Rs. 29,110
Laura Lombardi, Treccia platinum-plated necklace Approx. Rs.15,500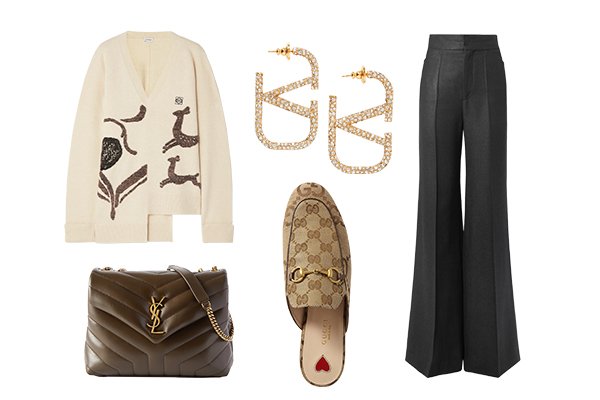 THE MOM WE ALL CHERISH
Loewe, Asymmetric wool-blend jacquard sweater Approx. Rs.96,570
Chloe, Silk and wool-blend flared pants Approx. Rs.1,34,730
Saint Laurent, Loulou small quilted leather shoulder bag Approx. Rs.3,55,350
Gucci, Princetown horse bit-detailed leather-trimmed canvas-jacquard slippers Approx. Rs.56,020
Valentino, Garavani VLOGO gold-tone crystal earrings Approx. Rs.80,300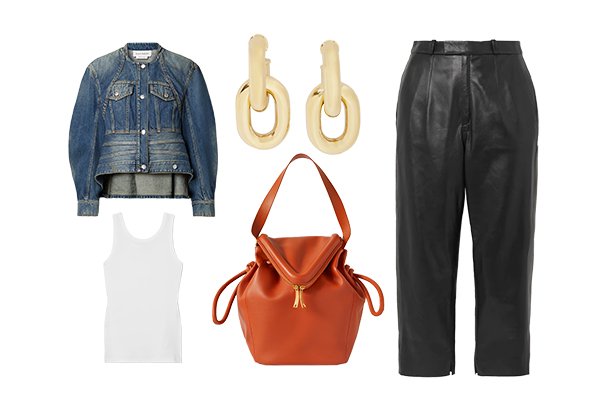 THE TOMBOY WEIRDO
1. Alexander McQueen, Panelled denim peplum jacket Approx. Rs.1,96,380
2. The Row, Frankie Organic Jersey tank top Approx. Rs.26,130
3. Paco Rabanne, Gold-tone earrings Approx. Rs.33,820
4. Bottega Veneta, Beak large leather shoulder bag Approx. Rs.4,41,450
5. Zeynep Arcay, Cropped leather skinny pants Approx. Rs.1,15,190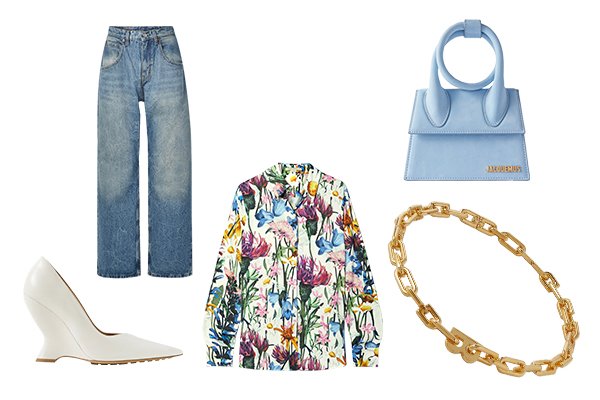 THE HOTTIE EVERYONE WANTS TO FLIRT WITH
1. Stella McCartney, Floral-print stretch-crepe shirt Approx. Rs.1,01,110
2. Bottega Veneta, Gloss leather wedge pumps Approx. Rs.1,20,430
3. Victoria Beckham, Mia high-rise wide-leg jeans Approx. Rs.53,050
4. Jacquemus, Le Chiquito Noeud suede shoulder bag Approx. Rs.1,00,510
5. Balenciaga, Gold-tone necklace Approx. Rs.1,11,070