All They Do Is Win Our Hearts With Their Stunning Red Carpet Looks! Hop In To Know All The Secrets Of Gorgeous Glamourous Star Faces.
Fashion may seem like nothing more than people prancing around dressed up in fancy outfits. But when you think about it more thoroughly, fashion is always in the front line of communicating something bigger. Today more than ever, people push themselves to stand out in the crowd and make a statement. Fashion statements aren't just about wearing the flashiest item, or extreme colors. Whether you opt for a monochrome, minimalistic look, mix patterns, the makeup should be based on how you feel and the energy you want to convey. After all, iconic style consists of the items that make you feel like yourself, so make the most out of it by using it to make a statement. The MTV EMA's red carpet always leaves us pining for the makeup tricks and skin care treatments celebrities use to get camera-ready. It's no secret that well-equipped glam squads are behind it all, so we are here to break down everything you beauty junkies want to know about the extra work that goes into these red carpet looks. Let's have a glance at these beauties together!
1. RITA ORA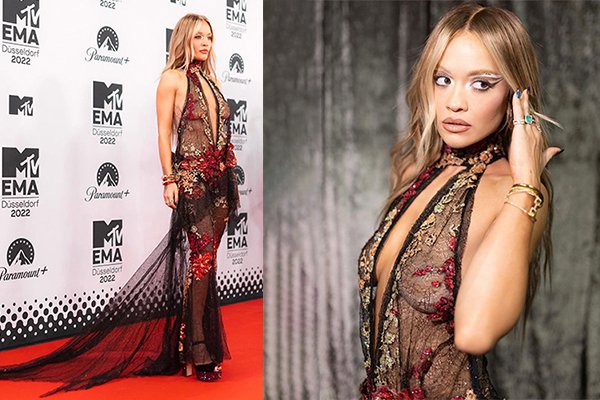 Rita Ora started the show with a statement look on the red carpet. She made her return as a host in a dazzling halter black and red plunge stripped jumpsuit, made out of sheer fabric extenuating her toned legs, with red, white and golden flower patterns, which created a perfect combination of sexy and sweet to the look. She also put bold shimmers on her eyelids and matched it with a glossy pink lipstick shade. Her cut crease eyeshadow speaks a million words with her loose beachy waves. Ora stunned onlookers in platform heels, several rings and golden bangles. The plunging keyhole neckline that reached her navel made it more sizzling. She left her neatly mid parted hair open as glamorous makeup with silver eyeshadow rounded off her looks. Flaunting her toned figure and tattoos all, Rita looked stunning in the floating eyeliner, white eyeshadow and her gorgeous honey blonde hair styled in subtle waves.
2. BEBE REXHA
Singer Bebe Rexha turned heads by opting for a striking head-to-toe electric blue outfit. Designed by Fjolla Nila, the outfit featured an abstract leaf-shaped panel around her. The singer picked up Best Collaboration; one of the most coveted awards of the night, for her pop track "I'm Good (Blue)". She is clearly not one to shy away from a bold red-carpet look. The blonde beauty showed her eccentric quirkiness, which matched her head-to-toe velvet jumpsuit with a corset panel in it showing off her slim waist. She radiated confidence in the panelled outfit, which towered over her body and ended on her knees. The pants transitioned into pointy heels that added some height to her frame. With confidence, she wore a full face of makeup and added some drama to her eyes with a smoked eyeshadow look, strong contoured cheeks and a glossy nude lip. She kept her warm blonde locks in a poker style and held them behind her face to show off her photogenic features.
3. MAYA JAMA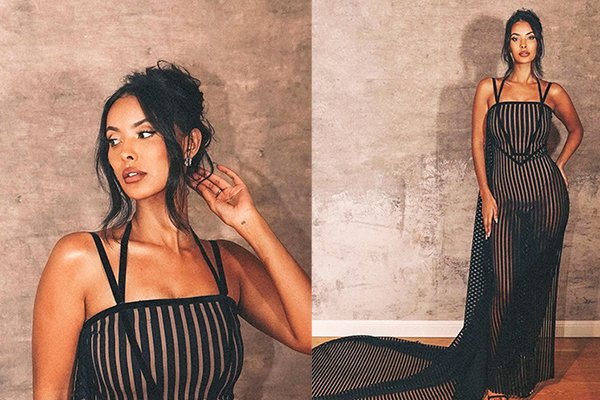 Maya Jama looked sensational as she caused a stir on the red carpet in a striped sheer, skin-tight strappy black floor-length gown with transparent stripes and cape. With showing off her enviable figure, the outfit perfectly accentuated her curves. She covered her intimate areas with a nude bodysuit underneath. This is not all, she also slipped her feet into a pair of black strappy heeled sandals. Her raven locks were flawlessly worn in a wavy curl and pulled up into a voluminous high-top bun. Maya's makeup looked extremely picture perfect with a dramatic contoured look and fluttering black lashes makes it more stunning. Flicking off a glossy nude colour across her lips which blended into the nude and beige panels of her dress is a win. Maya drew attention with her floor-length dress, which had a separate panel of sheer material that trailed behind her.
4. AVA MAX
Ava Max looked absolutely gorgeous as she opted for a vampy sartorial line fashion theme that looked highly appealing. Her outfit made her stand out on the red carpet. She donned a green velvet Roberto Cavalli cutaway dress with a long sweeping train, embracing the darker, edgier fashion and opting for the complementing gothic glam cool-toned makeup and black high heels, leaving her long blonde hair locks open in subtle waves. This flawless, 'no-makeup' visage with creamy illuminating skin screams perfection. Her makeup delivered a fashion fantasy filled with glam. Her brown lip totally set the fashion tone for the evening. The blonde subtle waves have grown in popularity over the years because of their versatility as it adds volume and movement to the hair bringing the wow factor, which they did here too.