This Year Try Out Something New – Explore How Other Countries Celebrate Christmas! Hop On To Know The Best Places To Celebrate Glowy Sparkly Christmas!
Welcome the season of a distinct festival rooted in the tunes of carols and European traditions – the Christmas season! It is not just a celebration but an experience that brings the world under a beautifully adorned tree. Some celebrate the festival at home while some love to explore various destinations of the world. The celebration of the festival reaches beyond the boundary of the religion and location as the entire world celebrates it with complete enthusiasm. We've a list of fabulous global destinations having the best Christmas holiday cheer going year after year. As it's never too late to start planning for the holiday season.
1. COPENHAGEN, DENMARK
Copenhagen is very classical when it comes to Christmas and traditions. This Scandinavian country with an ever-present medieval air and constructions has a lot to offer its visitors who come here searching for something different. Here are the reasons why Christmas in Copenhagen is a bit extra magical. Ice skating is so very true to a real Copenhagen Christmas. Cocooning yourself in the warmest outfit and channelling your inner Bambi on one of the city's outdoor rinks, while sipping hot chocolate, is very close to perfection. Frederiksberg Ice-rink is definitely one of the all-time classics and makes a great warm-up stroll in Frederiksberg Gardens. With its harbor views and delicious street food stalls all around, it elevates the ice skating experience to a whole new level.
Tivoli might be the epicenter of Christmas in Copenhagen. With what seems like a million twinkling lights, steaming pots of mulled wine and hot chocolate, and the coziest of Christmas markets, a trip to Tivoli in December is a must if in Copenhagen. All the rides are, of course, spinning the entire holiday season, but a stroll through what might be the closest thing to a real winter wonderland, is simply not to miss. A place loved by youths during Christmas for their parties is Nutcracker. You can attend The Nutcracker in Denmark during Christmas either with the Royal Danish Ballet or at the Tivoli Ballet.
If you are attending it at Tivoli then you will be getting a chance to check out the sets and costumes designed by Queen Margrethe. The Nutcracker is truly an ultimate Christmas celebration in Denmark. Every year on the 13th of December on Saint Lucy's Day, hundreds of kayaks all covered in Christmas lights and ornaments take to the canals for their annual Saint Lucy's parade. This is truly a sight to behold, and a Christmas tradition that's here to stay.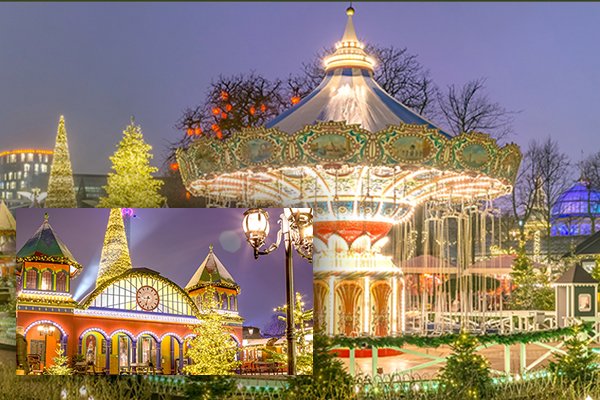 2. SANTA CLAUS VILLAGE IN ROVANIEMI, FINLAND
Want to experience the true spirit of Christmas this year? Well, the Santa Claus Village in Rovaniemi has a score of magical sights and attractions that offer the most authentic Christmas experience that you can ever imagine!
If you want to visit Santa Claus right after you land, then you would be happy to know Santa's Village is just 3 km away from the Rovaniemi Airport. Meeting Santa Claus in his hometown and seeing all his elf helpers is truly magical and is as much a hit among adults as it is among the kids. You can ride on a snowmobile and visit Rudolph's cousins at a reindeer farm where you can spend time in the open countryside. Riding on the winding tracks while making your way to the farm is a terrific way to explore the Arctic wilderness with your loved ones. And don't forget to dash through the snow while riding in a reindeer sleigh and experience the true festive spirit on Santa's favourite ride.
The Arctic Circle Snowmobile Park is a famous Finnish family run business which is situated inside Santa Claus Village in Rovaniemi. You can choose from the multiple safari programmes which are appropriate for families, individuals, and huge groups too. Whether you drift through the snow-filled forests in the winter or hike under the midnight sun in the summer, you are bound to have a memorable adventure for sure at the Arctic Circle Snowmobile Park.
Witness this amazing snow and ice sculpture exhibition which is usually opened on December 20th annually. The tickets are inclusive of access to the exhibition, snow slides, the magical forest, ice and snow carving school, and the fun snow maze. When you go inside the snow castle you can spend time here inside a warm cafe, or small souvenir shop or sip on an exotic drink at the famous ice bar.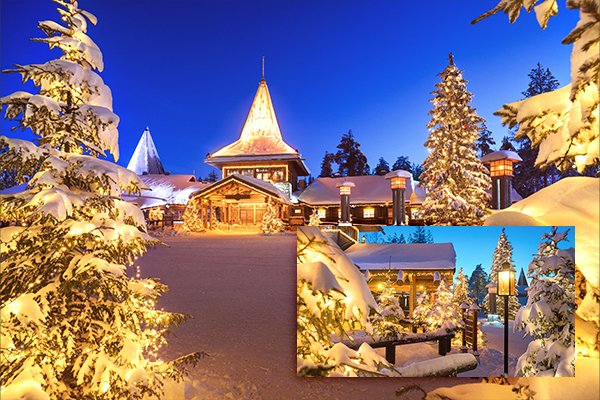 SANTA CLAUS VILLAGE IN ROVANIEMI, FINLAND
3. NEW YORK CITY
Surely you know what Christmas in the Big Apple looks like, thanks to countless movies: Christmas lights, cheesy music, and a light dusting of snow. The Christmas Spectacular at Radio City Music Hall feels so special—the dancing, the lights, the energy in the room all feels straight out of a holiday movie. The Rockettes perform with such synchronism and spirit that one can't help but be in awe watching the performance. It's especially exciting to go with someone who has never seen it before, or even has never been to the iconic venue.
Stepping into the Bronx Zoo around Christmastime is like entering a winter wonderland. Everywhere you look, there's another brightly lit Christmas tree, group of carolers harmonizing classic tunes, or man inexplicably walking by on stilts. The main attraction, of course, are the lantern safaris, where you can see illuminated animals from every corner of the world (giraffes, polar bears, sea turtles).
George Balanchine's The Nutcracker ballet performance at the Lincoln Center has to be the most iconic NYC holiday experience in the Big Apple. Most folks grew up watching the Nutcracker on TV, but there's nothing like seeing a live performance by the talented New York City Ballet. But be forewarned, this is the most popular Christmas show in New York City, so tickets sell out quickly. Fifth Avenue is the most popular shopping area in New York City and one of the most popular shopping areas in the world. It's always chock-full of people, but especially so during Christmas in New York. This massive shopping district is marked by luxury brands competing for attention by way of stunning window displays.
For an ice queen, New York is something to be adored, not feared. The Bryan Park is transformed into a European-style holiday market, equipped with 100 vendors that lining a popular ice-skating rink. The stalls sell fun Christmas decorations, handmade crafts, unique jewelry and food. The 17,000-square foot ice rink is free to use but ice skate rentals run as per person. This unique Christmas experience in New York City, is one of the best ways to celebrate the holidays in NYC.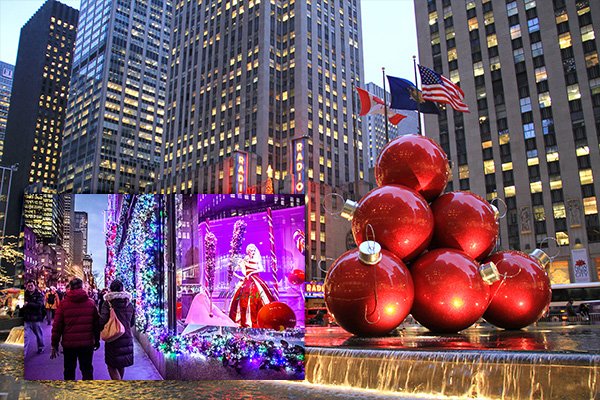 4. THE VATICAN CITY, ITALY
The Christmas season in Rome starts on December 8th, known as Immacolata, and lasts until January 6th – the Epiphany. Therefore, you will still be able to get into the holiday spirit during tours of the Vatican before and after Christmas!
Even if you aren't a religious person, visiting Vatican City during Christmas will be a magical time. One of the most unique activities is to see the pope in real life during the Christmas mass. The Pope is the head of the Roman Catholic church and calls Vatican City his home, making the city a faithfully devoted area, offering grand religious celebrations and Christmas cheer. The holiday season in Rome truly starts with the Midnight Mass run by Pope at the Basilica of St Peter. Despite its name, the mass is actually held earlier in the evening at around 10 pm with the procession starting at 9:30 pm. You must pre-book a ticket to get a seat inside, otherwise, you can watch the mass on the giant screens set up at St Peter's Square.
Urbi et Orbi happens just twice a year: at Easter, and on Christmas Day. It takes place in St. Peter's Square at midday, and
there are no tickets required. However, it is likely to get busy, so it is recommended that you arrive with plenty of time to spare. It includes greetings in many different languages, in order to be as inclusive as possible of everybody celebrating the festive holiday.
The 24 hours fast prior to Christmas Day, the burning of Yule Logs and decorating rooms and homes with a Ceppo and Presepio; all of these are traditional Italian customs. These have been co-opted by the Vatican over the years. Christmas is such an important holiday for the Christian faith and being able to celebrate it at the Vatican is such a special way to cement your religious beliefs With a Vatican Museum tour during December, you have the chance to see even more than you expected!