70% Of House Guests Snoop Through Other People Bathroom Cabinets And Drawers! If You Want Them To
Envy Your Styling, Hop In!
Did you know that there is a toilet themed park in South Korea? You've heard right! South Korea is the first and probably
the last country to have ever opened a "Restroom Cultural Park". The unusually named Mr Toilet House in Suwon, South Korea has opened a museum dedicated to everything toilet-related in 2012. In fact, "Bathscaping" is Instagram's latest interiors trend, involving the art of transforming your bathroom into a relaxing and luxury sanctuary. So, to create a serene, relaxing atmosphere in your bathroom we have some different sorts of bathroom styles, which your houseguests will surely admire! Read Out!
GIVE A VICTORIAN TOUCH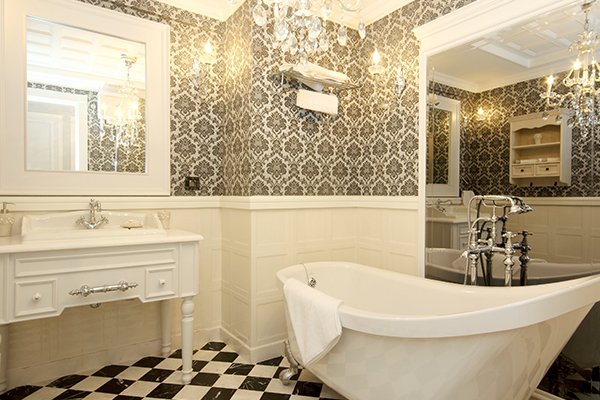 Sometimes, the old styles are the best. There's a reason why Victorian design still plays a large part in modern bathrooms: it's elegant, it's timeless, and it's been refined over more than a century. Think rich, dark colours, tiles on the floor, the wall, or sometimes even both, exotic patterns drawing inspiration from all corners of the former British Empire. Ornaments, too are actively encouraged in a Victorian bathroom. If you are staying true to the style, you should try to communicate your interests and passions through the decorations you include in the bathroom. This could be anything from plants and shells, to figurines and antiques. Combined, these features give you so much to play with when designing your Victorian bathroom.
JAPANESE DRESSING
When it comes to delivering a rejuvenating and relaxing bath to soothe your aching muscles, nothing matches the silent eloquence of the Japanese design. The beauty of a gorgeous Japanese bathroom lies not just in its sense of minimalism and simplicity, but its ergonomic design seems to incorporate tranquil natural elements that help wash away all your woes gently and effectively. Playing around with Japanese bathroom styles involves drape in natural wood which is a great choice indeed. A stylish and offbeat accessory to hold the towels is altogether an elegance in simplicity. Japanese bathroom design creates a picture-perfect bathroom that everyone wants to try and replicate.
SPANISH STYLES
One of the main features in Spanish bathrooms is the signature tile style – usually involving colorful patterns. Many of the Spanish bathrooms also feature specially made sinks and tubs, which give the bathroom a more rustic look – exactly what you've been looking for. When shopping the accessories for your Spanish bathroom, remember that less is more! A stunning combination of blue pattern tiles and golden elements looks so classy and modern. Spanish bathroom offers simplicity and warmth in one perfect bathroom. Natural floor tiles and a modern bathtub gives a homey feeling- everything you desired. A bench is also more than gorgeous and if you have a glass shower door like this one, you will be able to make a real spa in your home.