We Want To Apprise Our Readers That Mind Blowing Is Not Always Great, It Sometimes Can Be Opposite Too. Dive In To Know The Opposite Side.
We are living in an era where people are fond of conferring their unfiltered reviews. Deepest gratitude to it as brands today need to have a social media presence, period. Trolls can heavily tarnish a brand's image and also makes a brand acknowledge that where it went off the mark. Likewise, an Italian high end fashion brand Gucci came to our notice. The fourth most valuable luxury brand has launched Men's Screener Leather Sneakers. Fashion is clearly unforeseeable, one can never understand it. Nowadays, the brands had got the internet talking for all the wrong reasons in parallel to these Gucci sneakers. You can't afford to pair it with formals read it further to know why.
The luxury brands have brought spotlight and reactions from consumers because of bizarre collection. Luxury brands should not take it for granted that they can make a fortune with absurd launches from their big names. As audience is very sagacious and knows what to invest in. The hassle with these sneakers is how these are fetishizing poverty. Inspired by vintage sportswear these have an all-over distressed effect. The brand is slammed on social media for these dirty and unappealing sneakers. Afterall which brand doesn't like attention gained from a controversy? In our opinion, it's ridiculous to spend money on a pair of worn looking sneakers.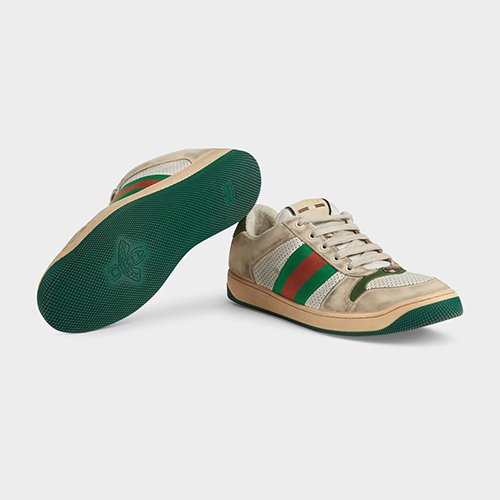 Gucci
Men's Screener Leather Sneakers
Wearing a fresh pair of sneakers and letting it beat to death is everyone's desire. Keeping the beauty intact of the product gives a content feeling to all and sundry's heart. Unfortunately, these all-over distressed sneakers are impotent of bringing forth such feelings. Nonetheless, we can't see this pair anywhere on the red carpet. The brand has itself mentioned to handle it with care for longer life. Speaking of the quality of a branded product. We can't see it! The sneakers have to be protected from direct light, heat and rain as stated in instructions. It is not object to our expectations from the sneakers. Sneakers are subject to make statement for their style, classy and sneaky looks, which blatantly we can't see in this pair. Gucci fans may also agree with us in this right? However, we appreciate products offering a feel of freshness which exemplary brands have. We are here to tell you the facts of products. P.S. this is not fashion and not at all trendy!