Your bathroom should be a place of relaxation and Zen. And with the right design, anyone can turn their bathroom into a spa. Take a look to see how!
Considering it is the one – and only – place you can answer nature's calls, it might be a tad surprising to read that bathrooms are usually the most unnoticed and overlooked rooms in the house while designing. Your bathroom is the main source of hygienic living and a room that a house becomes hard-pressed to properly function without. Did you know that the average person spends around 92 days in the toilet in a lifetime? The space should be really relaxing if you're going to spend so much time in it, right? So, it won't come as a surprise to you when we say that you can make your bathroom relaxing and spa-like. Here's how exactly you can achieve a modern, spa-like relaxing bathroom in your own home for maximum peace and relaxation. Read on!
1. ADD IN PLANTS AND GREENERY
There are lots of ways to incorporate plants in your bathroom space, you can get creative with it.
"Biophilic design" has been predicted to take over the bathroom trend charts for the year 2022 and if you're someone who loves plants, this is the perfect trend for you to follow. Biophilic design is a design concept centered around human connection with nature and is an effective way of 'bringing in the outdoors.' Our claim that 'People are living for this trend' is not an exaggeration at all since data has shown that almost one-third of homeowners choose to add greenery to the bathroom when renovating. They find plants to be aesthetically pleasing and feel that they create a calming environment, purify the air, and fight odour in the bathroom naturally. There are lots of ways to incorporate plants in your bathroom space, get creative, we assure you, you're going to love the result!
2. INCORPORATE A SELF-CARE STATION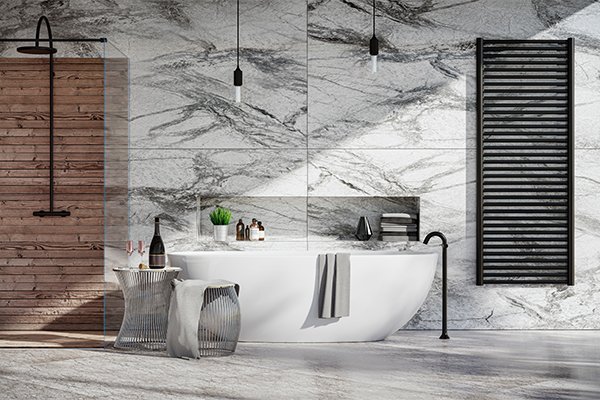 Incorporating a self-care station in your bathroom is a cool, new trend.
If you didn't know, self-care is cool now and baths with self-care stations are cooler. Picture yourself coming home after a long, hectic work day and unwinding in your relaxing bathtub with a wine glass in hand and maybe a book if you're a reader. You can easily turn your bath space relaxing by incorporating your favourite accessories and turning your bathroom into a sanctuary for yourself. There are multiple ways to do this, but the simplest and easiest would be to add a bathtub tray that can house your essentials like your wine glass, scented candles, or even your favourite book. Another way is by adding little tables or stools that match the aesthetic vibe of your bathroom and serve as little stations for you to be able to do your favourite activities.