1. Starting with an inspirational thought, from where did you get the inspiration to choose fashion as your career?
I believe my first fashion interest was when I was a young girl, I would always style my barbies differently than how they came. I always enjoyed creative work, and putting outfits together was one of the best pastimes for me as a kid and into my teenage years even now reflecting on it makes me want to just go out and enjoy putting a whole new outfit together. I have always been inspired by women in the fashion industry, whether it be designers like Donatella Versace the supermodels wearing the clothes like Heidi Klum being able to read about Coco Chanel's life was just a huge inspiration. I think it is hard not to be so inspired and motivated by these women with such great excellence in life and fashion, that I just knew I wanted fashion to be a part of my life forever. 
2. What are the initial problems that you as a newbie faced while entering this industry? How did you overcome them?
The biggest issue with entering this industry is that there are so many people that love fashion but are not necessarily influencers that lead, most follow the trends they see and aren't creative with them. When you try to enter the industry, people think that you are also a follower of trends and ideas, and that's when you have to differentiate yourself. Last year I started wearing these Dolce & Gabbana rhinestone gloves and the year after those came back to become one of the main pieces in the Ciao Kim Dolce & Gabbana Show for Milan Fashion Week. I have always believed fashion is one of the most beautiful forms of art, I think I was able to prove to the brands by being organic and being my authentic self that I have my taste in fashion and separate myself from so many people that look amazing wearing these brands but are just followers in fashion. 
3. As an avid investor, what do you think should be the perfect sector to invest in for the upcoming 10 years?
My answer might be so cliche, but the property is undeniably one of the greatest investments to make and getting creative with it with people's needs at the time, where new arenas or businesses are coming or what will be going on in those areas. I also have this thing called my "fun investments", which is where a percentage of my investments will go to things like fine art or jewellery. These are the types of investments that I enjoy because I can choose things that are valuable to me but also have a great resale value at the same time. One of the industries that have been booming in the past decade and I believe will just continue to grow is the cosmetic and beauty industry. I have been investing a lot of time and money into this industry and I am so excited to share what I've accomplished in my hair product line Mandana Beverly Hills, this being phase one of my cosmetic dreams and hopefully from there continue expanding.
One of the industries that have been booming in the past decade and I believe will just continue to grow is the cosmetic and beauty industry.
4. If you had been given a chance to go out on a secluded vacation. Who will be your dream celebrity that you would like to go on a date with?
My dream celebrity that I would love to go on a vacation with would be Jennifer Lopez. I have always admired her work ethic, talent and persistence and all of the obstacles and glass ceilings she had to shatter to get to this point as a woman of colour. I also just love her taste in fashion, her lifestyle and of course her music, and I think we would just have the most fabulous vacation together.
5. We want to know about the clothing brands that are in a fashion expert's wardrobe. What are your favourite brands and why?
I am always loyal to Dolce & Gabbana and Versace, they have been my favourite brands for years now and they always have such amazing pieces that match my day-to-day lifestyle to some of my most glamorous moments. These are the two brands that are staples in my wardrobe, not only with all of the amazing pieces that they continue to release with each collection but I will always love vintage DG and Versace. . Italian designers have a very special place in my heart, and specifically Phillip Plein. Phillip Plein is one of the staples in my closet, I always go to them when I'm looking for edgier, sexy pieces. I am also in love with Jacquemus for neat and fun daytime outfits, I love the aesthetic of the brand and how simplistic yet unique their pieces are. I have been loving Alex Perry and Cult Gaia, these are the two brands I go to for new hot statement pieces and can thank them for adding more colour to my wardrobe! I am also the type of person who loves accessories, I think they can make or break an outfit. Living in sunny California, sunglasses are always a must, I collect them from so many brands but one specifically that has caught my eye recently has been DITA! 
6. You are a Persian woman yourself. How much do you think women are being uplifted in the Middle East? What is the one thing you want to change about the current state of women there?
Being born a woman in a Middle Eastern Country comes with many limitations and restrictions that are placed upon you by a society that has never treated women justly. One of the greatest examples is that right now as we speak there is a Women's Revolution in my home of Iran where women are being arrested by the moral police for just showing their hair. It started with the killing of Mahsa Amini for taking off her hijab and showing her hair and since has grown into a revolution of women standing up for Mahsa, and better treatment. The voice of women in Middle Eastern Countries has been suppressed for decades and now women are screaming for their rights and having people hear their cries and screams and sharing that with the world so that they can get the help they need to make their government make necessary changes. It's touching to see that there are also many men involved in the revolution doing their part to uplift the women and make sure they are heard as well. I am happy that in some places like Dubai they have started to uplift women, it's a work in progress and needs years of education and brave women and men to stand up in hopes for every woman to have rights as much as we do in western countries.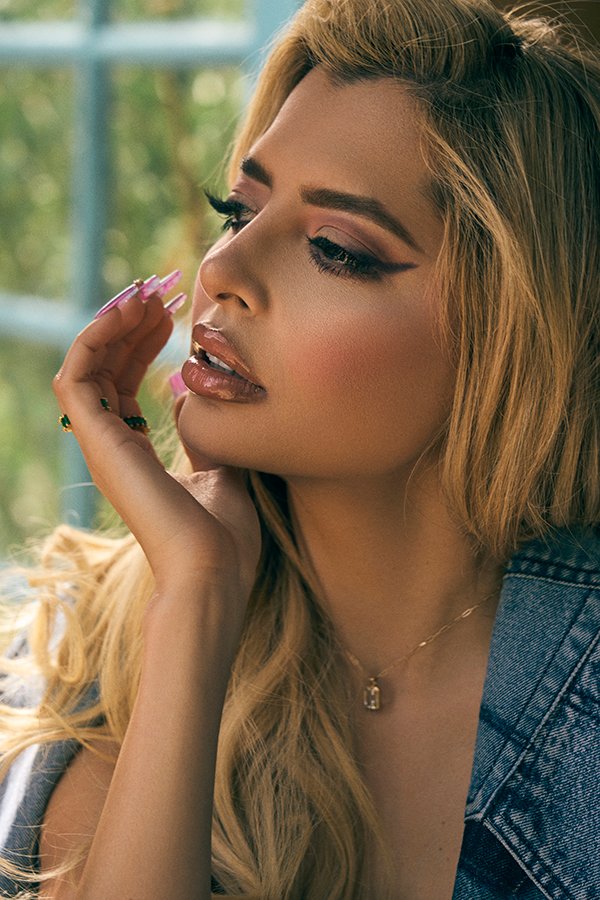 One of the greatest examples is that right now as we speak there is a Women's Revolution in my home of Iran where women are being arrested by the moral police for just showing their hair.
7. Not very often do we come across a "Rolls Royce collector". Tell us from where did you get the taste of cars and why only Rolls-Royce?
I've always been attracted to luxury cars ever since I was young, my cousins would have the coolest cars and wanted one for myself. I would see young Paris Hilton in her Mercedes-Benz SLR and I think that's when I knew I wanted to be that badass that can be super feminine but still have a car as nice as the guys. When I got older I got my first car that was a Mercedes-Benz SLR then when I moved to Dubai I owned a Bugatti and then my first Rolls Royce so it hasn't always just been Rolls Royce but it just happened to be the car that I fell in love with because of the cars level of luxury, comfort and beauty at the same time. There are so many luxury cars that are beautiful but hard to drive on a day-to-day basis, cars like Lamborghini, or SLRs are all amazing but not as useful to me as a Rolls Royce. I wanted to be able to enjoy my cars every day and it wasn't ever my plan to become a Rolls Royce collector but at the same time when new models would be announced I would just have to have them and as of now, I have three different models of Rolls Royce at my Los Angeles home. 
8. Your skin looks flawless. What are your secrets to healthy skin? What makeup products are your personal favourite?
I think the biggest secret to having and maintaining great skin is by trying to avoid sun exposure as much as you can and using SPF during every season is so important. In general, I just love being moisturized, I use my Dr Rand Vitamin C on my face and my body because I believe that you should take just as much care of your body as you do with your face. Valmont Oxygen Cream is a must in my routine especially living in a city like Los Angeles where we deal with pollution, I always love getting more oxygen to the face and when I have time adding hydra facials to my routine too. Another factor to clear skin, face and body are to maintain a healthy lifestyle and to drink water! I am currently training myself to drink more water and incorporate it into my routine. I have so many favourite makeup products that I have found throughout my many years of full glam, but by far my favourite product to use would have to be blush! I am currently loving the Patrick Ta creme and powder blush in the shade "She's a Doll".
9. Are there any of your upcoming projects that we don't know about? Please shed some light on them.
Yes! I am so excited to announce that I'm finally launching the first phase of my hair product line called Mandana Beverly Hills, which I and my close friend came up with and decided would be the first extension of our company Ma Hair Co. We have been working for roughly two years now to create a luxurious product line. We came up with the idea when we realized products were missing in the market that we needed. For me, it was things I felt were missing when I did glam, which I do very often and for someone like my co-founder who needs it on a regular day-to-day basis. We found that the products work for both ends of the spectrum of glam, and meet every woman's needs while being innovative yet beautiful products that everyone can enjoy having on their vanity or in their purse! 
10. Our readers were quite excited to have you on board. What is the message you want to give them?
I just want to say thank you to everyone who has been following me and supporting me throughout my journey from what started as just sharing my lifestyle to sharing my passions and dreams. It especially means a lot to receive supportive messages from women from all over the world and even some that have been following me since I went public on Instagram. Additionally, all of the brands have trusted me with their name to be an ambassador for them and I appreciate all the love and support I have so many more exciting projects that I can't wait to share with everyone!