When winter knocks on your door, welcome it with a cup of hot chocolate! You can even add in some cognac to make sure it really warms up your soul. Want to know how? Read on.
November brings cold gusts of wind that make you wish to stay inside and sip on hot drinks all day. And the phenomenon we believe in, is carpe cocoa – or seizing the chocolate! If you also believe in this phenomenon, then we have the perfect drink for you – hot chocolate! Hot chocolate is the quintessential winter drink and there is no better way to signal the drop in temperature than to drink hot chocolate while sitting in warm blankets and just relaxing. The drink has managed to amass a cult following and has multiple variations around the world. But the variation that we're going to be giving you today is combining your hot chocolate with booze to get the ultimate cold-weather drink to sip on!
Alcohol doesn't make an appearance in hot chocolate often which is a shame, because adding a little brandy – or cognac – to your hot chocolate results in a drink that will send you to heaven in just the first sip. Don't believe us? Well, try it for yourself!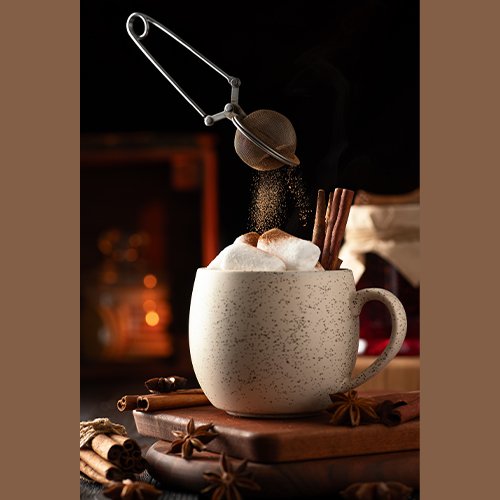 INGREDIENTS
For the hot chocolate

4 tablespoons semi-sweet chocolate, chopped

1 cup whole milk

1 tablespoon white sugar

1/2 teaspoon vanilla extract

For the final drink

1 1/2 ounces cognac

3/4 ounce spiced syrup

4 drops of pure vanilla extract

1 ounce heavy cream

Marshmallows, Grated nutmeg, and grated dark chocolate for garnish
DIRECTIONS
For the Hot Chocolate
1. Take room-temperature chocolate and chop it. Set it aside.
2.  Take a saucepan and add in sugar and milk to it.
3.  Heat the milk until it comes to a gentle boil. Keep stirring until the sugar dissolves.
4. Take the chopped chocolate and add 4-5 tablespoons of the hot milk to the bowl. Then take a whisk and mix the hot milk with the chocolate until it comes to a smooth consistency.
5. Add this mixture back to the saucepan and whisk it once to combine.
FINAL STEPS
1. Gather all the ingredients and keep them ready.
2. Take a coffee mug or any container of your choice. Add in the brandy, spiced syrup, and vanilla extract.
3. Pour the prepared hot chocolate over it. 4 Layer the cream over the top.
5. Add in garnishes of your choice – grated chocolate, nutmeg, and marshmallows pair well with hot chocolate.