Have you ever stopped to consider just how expensive luxury could get? If not, here we present 2 of the priciest perfumes in the world. Read on and try to get your hands on them for a truly luxurious experience.
The history of perfume has been closely intertwined with the history of the human race. The perfume had its humble beginnings from incense, which was first discovered by the Mesopotamians about 4000 years ago. From being used for religious ceremonies to embalming the dead with it, perfume has played a huge part in the lives of Egyptians and the rest of the human race. Even the Bible has frequent mentions of fragrance and perfumes. The Greeks are given credit for making the first perfume, although it was completely different from what we know as perfume today. Egypt exported it to India and it made its way around the globe through exports and invasions, and became what we know today. Today, women – and men – own not one, but a plethora of perfumes. Although the cost of perfumes has been reduced to make it majorly affordable, there are still some exclusive, luxurious creations that are launched from time to time, that come with a hefty cost attached to them. These are meant for the true connoisseur of fragrance and luxury. If you are one of them, we have a treat for you – 2 of the most expensive perfumes in the world. These are not the only expensive perfumes in the world. With only 3 bottles made to date, and costing $6,800 per ounce, baccarat's Les Larmes Sacrées de Thèbes also ranks high on the list. So, without any more waiting, let's get right into it.
DKNY, GOLDEN DELICIOUS PERFUME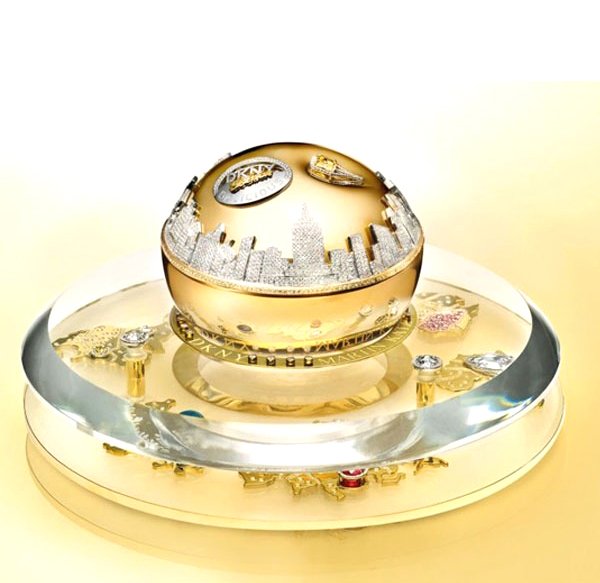 GOLDEN DELICIOUS PERFUME by DKNY
A joint effort between the DKNY team and renowned jewellery designer Martin Katz, resulted in the creation of this one-of-a-kind packaging that is as luxurious as they come and costed $1 million. Screaming indulgence, the bottle was created for a noble purpose and the proceeds from the sale went to the 'Action Against Hunger' charity. In terms of scent, the fragrance is composed of musk, sandalwood, apple among other ingredients. There was only one bottle designed and it boasted 2,909 precious stones which included yellow sapphires, 2,700 white diamonds, 15 Australian pink diamonds, a 1.65 carat turquoise Paraiba tourmaline from Brazil, a 7.18 carat Cabochon sapphire, 2.43 carat flawless, yellow Canary diamonds, 4.03 carat pear shaped rose cut diamond, 4 rose cut diamonds shaped like pearls and a 3.07 carat oval cut ruby. The team worked for 1,500 hours to hand-place each of these stones. By the time they were done, the bottle had started resembling the New York City Skyline. The expert jewellers need to be commended for their valiant effort as the end result was totally worth-it.
CLIVE CHRISTIAN, NO 1 IMPERIAL MAJESTY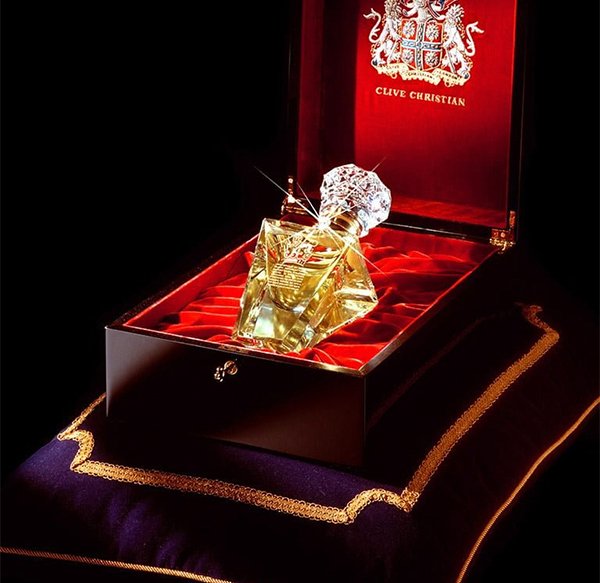 NO 1 IMPERIAL MAJESTY by CLIVE CHRISTIAN 
Costing a whopping $435,000 for a 16.9- ounce bottle, the fragrance is truly a luxurious experience you won't ever forget. What makes it even more special, when you purchase it, it comes to you in a Bentley! It is a royal and rare fragrance as only 10 bottles of it were made. In 2006, Christian made the decision to offer 500ml of perfume oil in the most extravagantly-lavish bottle one could devise. The credits for this luxurious bottle go to Baccarat who brought to life a bottle made of nest polished crystal with an 18-carat gold collar cradling a 5-carat white diamond. In terms of scent, it is a blend of jasmine, Tahitian vanilla, and rose oil, and is refreshing and unique. True fans of Clive Christian's creations know that he considers the fragrance to be the best of the best. He calls it "the perfume of his heart" and we totally agree that there is no better scent out there!