There's a new player in the fashion world: athleisure! And here's your guide on how to rock it with style.
You must have come across the word activewear and must have stopped for a moment to think what it meant. To clear your confusion, sportswear is also called activewear and has recently seen a massive increase in popularity. Activewear is not just limited to the gym or for exercising, these days, athleisure is trending and you can wear your activewear anywhere you wish to. The typical apparel that comes under activewear includes tracksuits, shorts, polo shirts, t-shirts, etc. There are also specialised garments like swimwear, ski suits etc. Even the footwear for sports is different than your regular footwear. Many times, activewear can actually be worn as casual clothing. So, you can also choose to wear activewear and increase your pleasure with leisure!
The reason everyone has started to wear active wear daily is that it is comfortable and makes moving around easy. Given the hustle and bustle surrounding us that makes it extremely tiring to complete even the simplest of errands, it is not surprising people have resorted to wearing comfortable clothes in their daily life. To help you in making the shift to activewear, we have curated a list of outfits for you that would make your transition simple and quick. Get ready to live your ultimate comfortable life because L'Officiel is here to put the leisure in athleisure!
1. DEFINITELY EYE CANDY
1. DOLCE & GABBANA, Majolica-print cady sweatshirt with zipper, approx. Rs. 1,18,960
2. MADELEINE THOMPSON, Working Girl cashmere track pants, approx. Rs. 38,560
3. DIOR, Small dior vibe zip bowling bag, approx. Rs. 3,28,660
4. BALENCIAGA, Runner sneaker approx. Rs. 89,990
5. SAINT LAURENT, Paisley-print twill hair tie, approx. Rs. 27210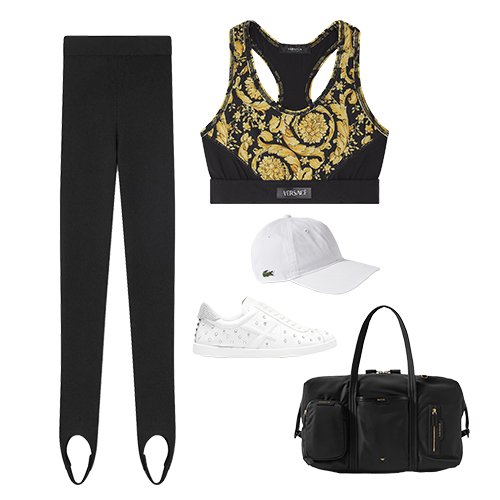 1. VERSACE, Barocco sports bra, approx. Rs. 41,000
2. TOM FORD, Fine cashmere silk rib stirrup leggings, approx. Rs. 1,47,900
3. AQUAZZURA, The a crystal dot sneaker, approx. Rs. 64,560
4. ANYA HINDMARCH, + NET SUSTAIN Inflight leather-trimmed recycled shell weekend bag, approx. Rs. 77,750
5. LACOSTE, Appliquéd cotton-twill baseball cap, approx. Rs. 5,080
1. KHAITE, Carmelo intarsia ribbed-knit bralette, approx. Rs. 72,310
2. FENDI, White nylon shorts, approx. Rs. 61,820
3. BRUNELLO CUCINELLI, Suede and taffata chunky sneakers with monili, approx. Rs. 1,01,340
4. STELLA McCARTNEY, Stella logo crossbody bag, approx. Rs. 82,170
5. ALAIA, Studded leather headband, approx. Rs. 52,700
4. CALLING ALL THE FANCY LADIES
1. BALMAIN, Cropped eco-designed cotton sweatshirt with rhinestone balmain logo, approx. Rs. 97,030
2. THOM BROWNE, Striped cashmere-blend track pants, approx. Rs. 1,54,730
3. GOLDEN GOOSE, Mid Star shearling-lined distressed leopard-print calf hair, leather, and suede sneakers, approx. Rs. 95,940
4. CHLOE, Lallo crocheted recycled cashmere and wool-blend bucket bag, approx. Rs. 4,12,720
5. ROGER VIVIER, Embellished grosgrain-trimmed straw visor, approx. Rs. 78,190