We got in conversation with the social media sensation and the fiery singer, Kelianne. Her Instagram following is enough proof of her being a versatile lady. Keep reading to find out everything about her!
Team Credits:
Photographer: Kelsey Hale@Kelsey_Hale
Muse: Kelianne@iamkelianne
Wardrobe Stylist: Haili Pue@allzeedetails
Makeup: Tori McKonkey@torimcconkeymakeup
Hair: Richard Grant for Exclusive Artists using Oribe@RichardNormanGrant
PR: ICON PR@icon_pr
We consider her the new "it girl." Meet our digital cover star for July, Kelianne, an influencer, gymnast, dancer, actress, singer, and the new addition to the list, a wife. We are an admirer of her versatility and assure you by the end of this, you'll become one too.  After competing in the world championships, as a former member of the U.S. National Acrobatic Gymnastics Team, she now has taken over the social media world and running her empire.
After witnessing the dream wedding, she had with beau Chase Mattson, there is no doubt that she can even become an exceptional planner and add that to her growing list of skills. L'Officiel got the chance to get in conversation with her and speak about all her new ventures, inspirations, and how being married has changed her.  Keep reading and enjoy our amusing conversation with the star, Kelianne!
Welcome to L'Officiel! Our Warmest congratulations on getting married. How have things changed & how has it been like?
Thank you so much! We are still settling into the married life. But so far, it's been a lot of fun. I love hearing Chase call me his wife; it gives me little butterflies!
You are a social media sensation, let's talk about how you started and who inspired you?
It all started when I moved to LA in 2015. I moved to pursue the entertainment industry. I have a huge passion for performing, acting, singing, and social media became a part of it all. I didn't start growing a big platform until 2020, and I'm so grateful for everything.
Dress: Amna Al Salam
Earrings: Mahrukh Akuly
Bag: Carat 23
Shoes: Cofi Leathers
Any advice you would like to give to budding social media influencers?
Just to make sure you really enjoy what you are doing. Social media has a lot of ups and downs and can be hard on people, mentally.
You are one lady we admire, being a gymnast what is the hardest thing that this skill requires?
Discipline is probably the hardest thing. Gymnastic requires a lot of work, time, and dedication. Gymnastics taught me how to have a good work ethic and I'm so thankful for the same.
You're also a fantastic dancer, describe the best performance you've ever put on?
I've been performing since I was a little girl, so I have a lot of performances I'm very proud of. One of my favorite performances was when I performed on The Ellen show, it was such a dream of mine when I was younger.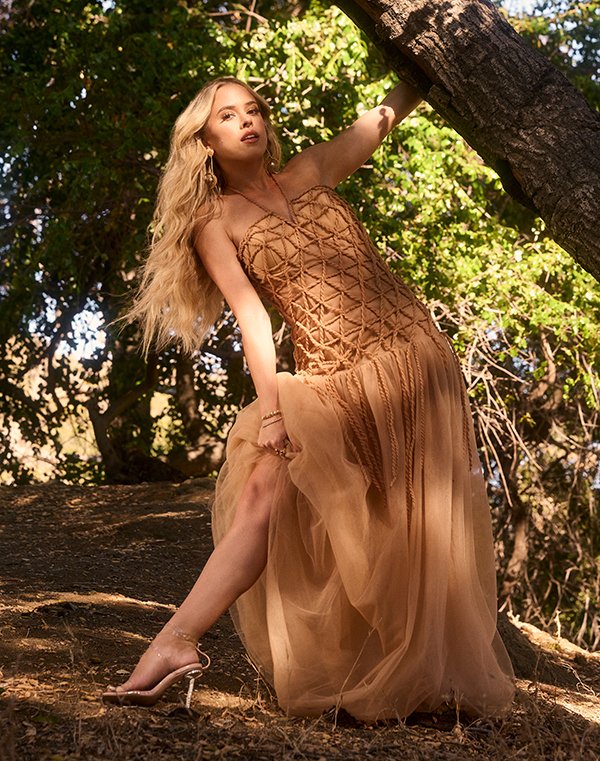 Dress: Charles & Ron
Bracelets: Gabriel New York
Rings: UNOde50, Gabriel New York, and Made by Mary
Earrings: Mahrukh Akuly
Shoes: Stylist's own
Tell us about your favorite social media campaigns you've worked on?
I've worked with a lot of different brands that I've always dreamed of working with. I love being able to collaborate with brands that I actually love and use for myself.
We'd love to know more about your music projects! What inspired your most recent singles "Boys" and "Bet"?
I absolutely love pop music so that is the inspiration behind all of my songs. I'm looking forward to actually performing my songs because performing is one of my favorite things to do.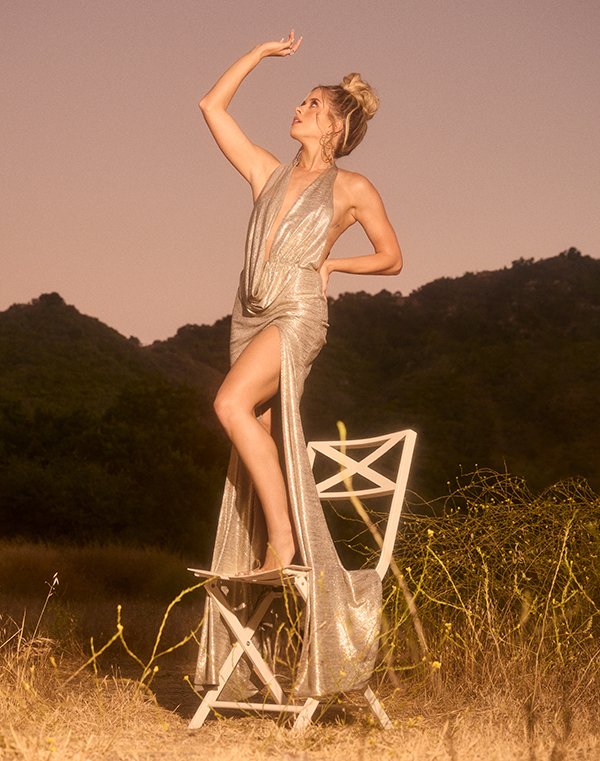 Dress: Gomez-Gracia
Earrings: Open Edit
Ring: Gabriel New York
We adore your relationship with Chase, what is the most romantic thing that you've done for each other?
I would say Chase is more romantic than me. He is really good at surprising me and does it all the time! My favorite is when he tells me to "get dressed, I'm taking you somewhere." He did this recently and he took me to Disneyland for a little date night.
Your go-to vacay destination with family would be?
We love traveling and exploring new places so I don't think I can pinpoint one destination!
What do you do in your free time when you're working or indulging in any business matters?
I love watching TV shows. I can sit all day and binge watch a show and it's so relaxing to me.
Two-Piece: Temraza
Chain Belt: Stylist's Own
Lion Charm on Belt: Kendra Scott
Shoes: Lilliana
Earrings: Weisheng Paris
Rings: Mahrukh Akuly & Kendra Scott
One piece of advice you'd like to give to our readers?
I have to tell myself this constantly because this is also hard for me, it doesn't matter what people think, if you love what you are doing just keep doing it. If it brings you joy, keep doing it.
Spill some secrets about your upcoming projects?
I have a lot in the works and I'm so excited for this next journey I'm on!