Welcome to The Gender-Neutral Season! Let's Dive in And See What's New in The Handbags Section of This Graceful Department!
The month with bright roses and clear sunshine also brings a proud feeling with the pride month. "Why pick one color when you could have the entire rainbow," has always been our motto. As the fashion connoisseur of many, it makes us so ecstatic that in this world where binary gender is an ancient phenomenon, many alluring brands are delivering their best and stepping up their game with more gender-neutral apparel. The focus has now been shifted to the accessories section as well. The handbags we witness with new collections every now & then are all artistic & glamorous.
Now to answer the big question if gender-neutral bags will bring the demise of Man Bags? Let us clear this for you, Joey's new man bag is also just a handbag. If you know you know! Handbags, keeping the fashion statement aside are functional regardless of gender. Coming back to luxury brands taking initiative and producing remarkable bags, we are noticing you all and love the effort you put in. for the pride month, and 'love is love'. We have brought to you some genderless handbags that should definitely be a part of your closet. So, without any further ado, pick your favorite, and if you can't, get your hands on them all!
Versace is hands down the most preferred brand of many celebrities.
VERSACE: MEDUSA BIGGIE POUCH BAG
From Princess Diana, Megan Markle, Victoria Beckham to Gigi Hadid Versace is hands down the most preferred brand of many celebrities. Founded by Gianni Versace in 1978 is an Italian Fashion House currently leading the charts with its artistic designs. Nonetheless, during "The Met" 2022, Versace was seen on many celebrities that did steal our hearts. Enough said about apparel, the handbag sections by the brand offers premium quality with great lasting power, if taken care of.
Who doesn't know Versace's famous Medusa Logo? This Greek mythological figure was first used because she made people fall in love with her and they had no way back. Today, the bag we have is the Medusa Biggie Pouch Bag in a bright fuchsia color, which captivated us in a single glance with its contemporary design. Presented on a recent runway show, it is made from contemporary transparent PVC. It comes with an adjustable and detachable strap and a zipper closure.
Even though it just has one compartment, the space is big enough to fit in items you would require on a date or out partying with friends. Also, you can carry the bag easily over the shoulder without the fear of losing any essential items. We'd want to carry this one on a picnic with friends or family!
The chicness this brand offers is so distinctive even in 2022.
VALENTINO: NEON LEATHER CROSSBODY BAG
Remember when Jacqueline Kennedy was the most prominent Valentino Client? Well, now we understand why she admired all their pieces. The chicness this brand offers is so distinctive even in 2022. Founded in 1960 by Valentino Garavani, this Italian fashion house makes sure to deliver everything Valentino was interested in which was, both art & fashion.
Sometime back when they shifted to pink from red, we were awestruck, but surely knew that 'Valentino Red' is going to be his trademark for life. Speaking of the bag, insight for this month is its new Neon Leather Crossbody Bag-Made with calfskin, Black Ruthenium-finish studs, and a Neon VLTN print. Of course, when you see it, it doesn't look like anything fancy or out-of-the-box but its simplicity and elegance get to us.
On a usual day, we would have come at it about being simple but we think it's an ideal gender-neutral bag. The dimensions and drop length are good enough to fit in the basic stuff you'd probably need on a lunch date. Just like the Versace one, this one too comes with an adjustable and removable shoulder strap and zipper fastening. If we had to take this baby out, we'd take it with us on a casual brunch date with friends!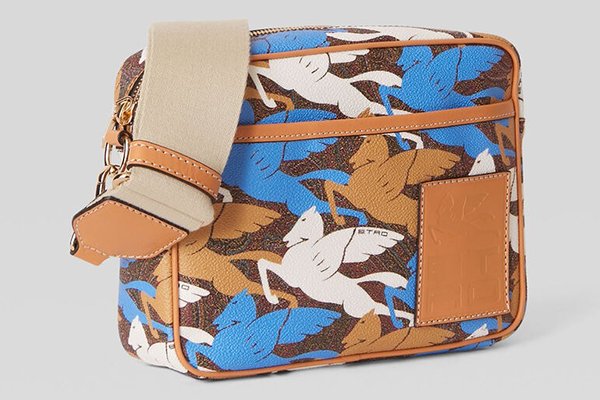 It dealt in a luxury when it came out with its paisley motif on rich textiles, leaving everyone thrilled.
ETRO: PEGAFLYING PRINT LEATHER BAG
Etro has been a red-carpet best friend of many beauties from Hollywood. Its eclectic patterns have inspired many from Olivia Wilde to Kat Graham. Founded in 1968, Etro has been a family-managed business since Gerolamo Etro. It dealt in a luxury when it came out with its paisley motif on rich textiles, leaving everyone thrilled. Nonetheless, its exotic designs are not limited to fashion but are noticed in its accessories too.
The crossbody bag we have for the pride month is their Pegaflying print bag, this one caught our attention the most from its new launches. To begin with, the bag is embellished by a Pegaflying print and leather label with a ton-sur-ton imprinted Etro Cube logo, making it look discrete and classy. The external pocket is designed neatly to keep it simple yet elegant. Moving on, the exterior made with canvas-lined coated Paisley cotton jacquard fabric with matt grain is strong enough to hold your essentials.
The finishing of the bag is 100% calfskin. Since we notice every little detail, the gold-colored metal accessories on the strap are a total hit for us. Lastly, it comes with an adjustable shoulder strap and zip fastening, so no worries there. We'd probably recommend carrying this one out on a brunch with his parents or when you are meeting them for the first time. Undoubtedly, the first impression will be high-class & glamorous.