For the true jewellery connoisseur, we have something truly exquisite today. Dior has presented its latest collection. Let's see if it holds up to our scrutiny.
A fabulous smile and a stunning diamond necklace, and you're ready to take on the world with grace and beauty. Forget any other piece of your outfit, but don't forget to add a sparkling diamond.
Paris becomes the focal point for fashion as the Haute Couture Week approaches. At this event, many jewellery Maisons that are in and around the Place Vendôme showcase their latest High Jewellery creations. This year too saw the same. For those not in the know, High Jewellery is the term given to the most exquisite, innovative, and expensive jewellery collection released every year. These jewels are not for the faint-hearted though – with the finest craftsmanship and the most flawless of stones, every piece features a unique design – these are meant for the true jewel connoisseur only.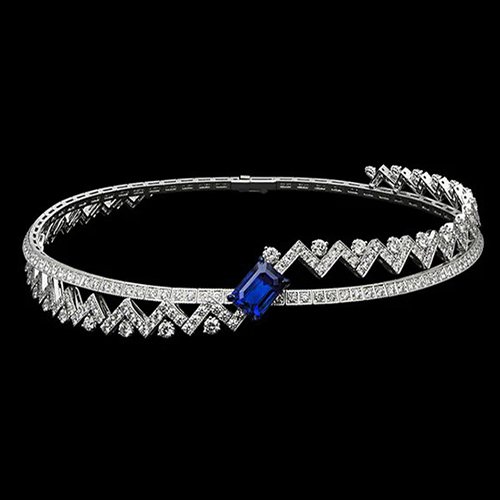 The collection has helped de Castellane establish a link between couture and jewellery.
This year's offering by Dior was the Galons Dior – one of the most expansive Spring 2022 high jewellery collections, comprising 81 original pieces inspired by Christian Dior's mastery of couture and designed by Victoire de Castellane. These 81 pieces include necklaces, rings, bracelets, and earrings and feature diamonds, rubies, emeralds, or sapphires, all cut into geometric shapes. And in a first for the Dior Jaoillerie collections, this one features brooches and cufflinks for men as well. The name 'Galons' is taken from the term that connotes the braid trim repeatedly used in fashion. The inspiration for the line was taken from the Maison's couture fabrics and Victoire de Castellane has managed to translate movement and grace into all 81 individual pieces.
The line uses elements like white gold, pink and yellow gold, platinum, etc. Now there is a negative point to be kept in mind here. Platinum dulls over time, so parts of your jewellery piece would start to look dull after some time. And since its melting point is higher than gold, if you need to get any work done near the diamond or any other repair work, all stones will need to be removed. This could result in the repair cost going considerably higher or even result in some stones not being set properly the second time, thus ruining your exquisite piece of jewellery. Another point of concern here is that white gold is not hypoallergenic. So, your body could react to the minor alloys in white gold in some of the pieces. This means you need to be very careful before purchasing the pieces with white gold in them. 
The bright and bold tones of the pieces in the collection make them stand out prominently.
Many times, Castellane has resorted to the use of varnish to colour parts of her collections, these include the Rose Dior Pop among others. In Galons Dior as well she has used green, blue, and red lacquer on some pieces to lacquer the prongs that hold the central stones to smooth out any unnecessary contrast with the gold elements. This might have accentuated the reds, greens, blues, or red of the piece further, but the lacquer could chip and wear off at any point, as it does not stay on forever. So, it adds the headache of another repair task to be undertaken. 
Overall, the collection features some truly stunning pieces and if you love graceful and refined pieces you could go for it.