Just because you're not the bride does not mean you cannot command attention! We have a list of 4 spectacular bags for you. Match one with your outfit and look at everyone's eyes follow you the whole day.
It is not just the bride that needs to make a fashion statement at the wedding. Even the bridesmaids need to look their best. And purses really are the perfect blend of form and functionality. Whether you only carry around essentials, or your whole vanity is present in your bag, a good bag is a must.
No outfit is complete without a matching handbag, which is why we have made a list of the latest handbags that a bridesmaid must have. Subtle or just a touch fancy, whatever your style, we have got you covered! Just in time for the wedding season, we recommend that you go shopping for these bags as soon as possible, lest they go out of stock.
1. BOTTEGA VENETA'S TEEN POUCH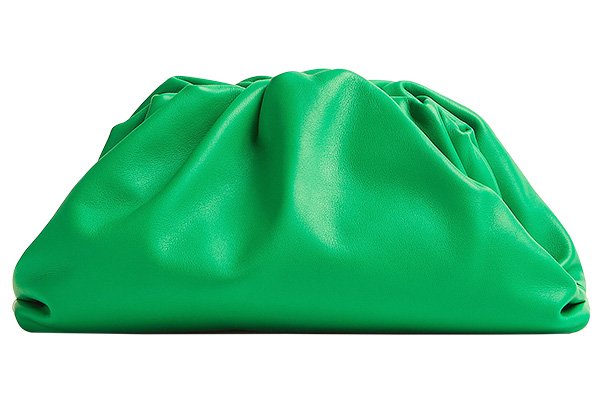 Bottega Veneta's Teen Pouch in Parakeet.
Bottega Veneta was launched by Michele Taddei and Renzo Zengiaro and is best known for its handbags and accessories. The luxury brand was established in 1966 in Milan and has managed to become a global hit by now. The brand is perfect for those who prefer understated, refined, and effortlessly chic pieces in their wardrobe. Although the brand lost its way for a while, it bounced back stronger than ever when Daniel Lee was made Creative Director in June 2018. He brought with him the Pouch clutch bag, which quickly became the most sold Bottega Veneta bag. Even Hollywood celebrities have frequently been seen out and about with the Pouch Clutch.
It comes in a variety of colors – black, white, almond, and wasabi – but if you're feeling bold and funky, you could go for the parakeet color – it is by far the most noticeable color. The material of the bag is 100% Calf Skin with a Calf Leather lining. There is a single compartment and the bag's hardware is gold finish and has a magnetic frame closure. The bag is perfect for the minimalist bridesmaid and you're sure to turn heads if you're carrying this with your outfit.
2. CHANEL'S SMALL EVENING BAG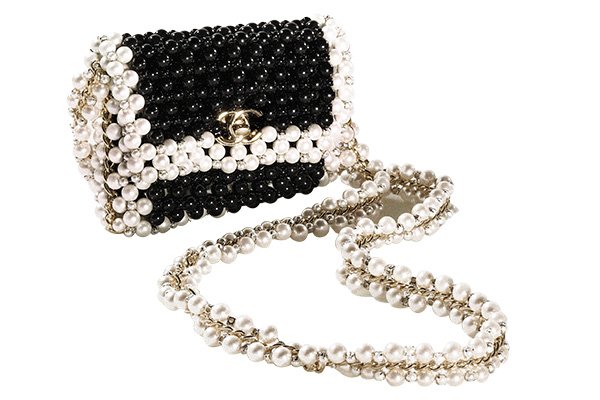 Chanel's Small Evening Bag in imitation pearls, glass pearls and gold-tone metal black and white.
For the bridesmaid who fancies something a little extravagant, we have Chanel's small evening bag as the offering. Chanel was founded by the couturière Coco Chanel in 1910 and the brand's products have been personified over the years by male and female celebrities, fashion models, entertainers, etc., this includes Marilyn Monroe. Well known for the perfume Chanel No. 5 and the Chanel suit, Chanel has managed to revolutionize both high and everyday fashion.
The Small Evening Bag is new this season; it is a part of the Spring-Summer 2022 collection. And there is nothing subtle about this bag. Featuring imitation pearls, glass pearls, and gold-tone metal, the bag comes in two variations of its black and white combination. The dimensions of the bag are 13.5 × 16.5 × 5.5 cm in. If you wish to make people stop and stare, this is the perfect bag for you.
3. ALEXANDER MCQUEEN'S FOUR RING FRAME IN BLACK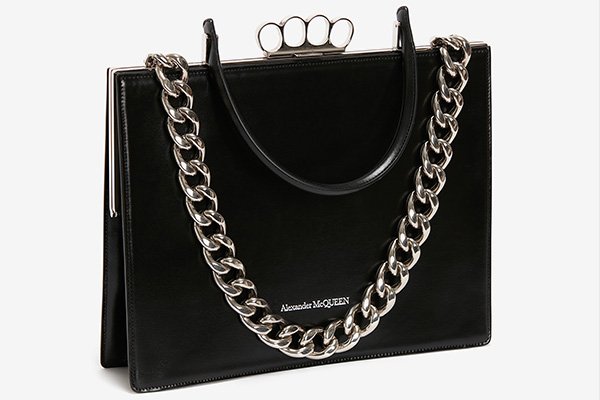 Alexander McQUEEN's Women's The Four Ring Frame in Black.
Alexander McQueen founded his own label in 1992 and also served as the chief designer at Givenchy from 1996 to 2001. A Scottish fashion designer and couturier, his achievements in the fashion industry earned him the CFDA's International Designer of the Year award in 2003 as well as 4 British Designer of the Year awards – in 1997, 2001, and 2003.
If you are carrying around as much as possible to make the bride's life easier, this is the bag for you. A part of the s22 collection, the Four Ring Frame is available in two colors – black and white. You can wear the bag in two ways depending upon your preference – over your shoulder making use of the chain strap or you can use the leather strap for a hand-held look. It is made of 100% Calf Leather and has a metal clasp opening. It is leather lined and comes with a silver-finished four-ring handle and a metal frame. Although the bag only has one main compartment, the size is big enough to hold a considerable amount of stuff. Although, a word of caution from the label itself, don't carry it to places where there is a security check due to the appearance of the bag.
4. GIVENCHY'S SMALL 4G BAG 
Givenchy's Small 4G Bag in Lizard With Chain.
Givenchy was born on 1952, in France and has gone on to become one of the leading brands in the fashion space. Founded by Hubert De Givenchy, the brand is renowned for its haute-couture clothes, accessories, perfumes, and bags. Givenchy has been worn by celebrities such as Audrey Hepburn who later became the house's muse for forty years. Other famous clients of the house include Beyoncé, Princess Grace of Monaco, Wallis Simpson amongst others.
Coming to the bag, the small 4G bag in lizard with chain, is the newest launch by Givenchy. It's a lizard skin cross-body bag that comes in one color with gold-finish metal detailing. The bag has only one main gusseted compartment with one flat pocket and sex card slots inside. It has a chain shoulder strap with G links and a 100% lambskin leather lining.