She is like the sun; she shines & people burn. Yet another diva gracing our cover for the anniversary edition is Emma Lucille, read on to know all about her!
Affectionate, Innovate & Irresistible best describe Emma Lucille, a ravishing model. This bubbly woman spilled secrets about her favorite romantic getaways, crazy shoot experiences, fascinating upcoming plans & so much more. One useful yet weird fashion advice she gave was, "Slowly blow air out of your mouth in a photo to make lips have a nice keyhole look." We've never enjoyed any conversation so much, it is witty and will bring a smile to your face, keep reading to learn about Emma Lucille! 
Hello Charmer, thank you for gracing our Anniversary Edition, as a model what do you think of as your biggest strength?
Hello, hello! Thank you so much for having me on the Anniversary edition.
Clients have told me that I am unique in my movements, which creates beautiful shots for them. I love being creative and presenting many different looks and energies on camera which they appreciate. I do everything with passion. Also, I just get along with everyone on set, many of them become my friends. I am prepared to work long hours if I have to and hate being late!
One quality of yours a very few people understand but you wish they knew?
That I enjoy listening to conversations, it does not mean I am bored or quiet! I am a very confident and observant person and don't feel the need to talk constantly.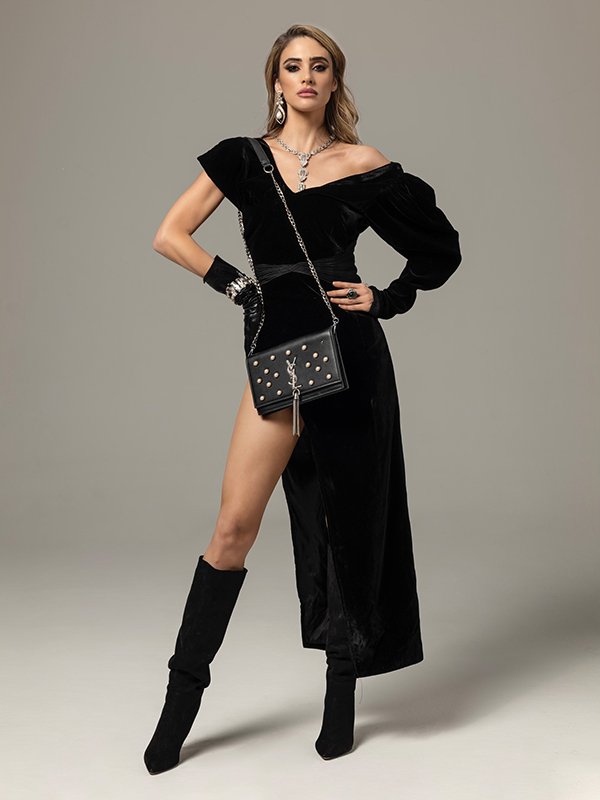 Dress: YSL
Bag: YSL
Boots: Gianvito Rossi
We know you've lived in some of our dream places, what is the one thing about Paris, London, & Milan that you love?
Ah, choosing one is tough! In Paris I love the architecture, speaking French (I am fluent in French) and eating Nutella crepes.
London is my favourite place. I love Hampstead Heath, walking in Primrose Hill and restaurants in Chelsea area. I love to walk everywhere! London Fashion Week is also my favourite fashion week because the shows and events are really fun and the street style can either be posh or super outrageous.
In Milan I love the culture, walking around the streets discovering new shops and bakeries, the giant fashion billboards and architecture, the coffee and its good location. I feel like a local in Milan and it is easy to travel from there.
Jacket: Chanel
Skirt: Alexander McQueen
Bag: Kelly
You have walked the ramp for some astonishing brands, if you had to pick the top 3 favourites from those, which ones would you choose?
Thank you! Many have been amazing. I would say Elisabetta Franchi, Chanel Joan Elkayam (CJE), I would wear all of her clothes and she is so lovely. Also, Jeff Garner of Prophetik, who hired me for my first fashion week and that put me much more onto the international stage. The Aadnevik show should get a mention too, I usually attend their show each season it is a great vibe, it never disappoints!
Tell us about your go-to destination for a romantic weekend getaway?
Anywhere with ocean, fresh air and privacy. I like the Sunshine Coast in Australia, Santorini and Lake Como in Italy.
Top 5 products every woman should carry in their handbags according to you?
Sunscreen, snacks, lip liner, lip balm and a small eyeshadow palette that can be used for contour and eyes if you need it last minute. These are my essentials!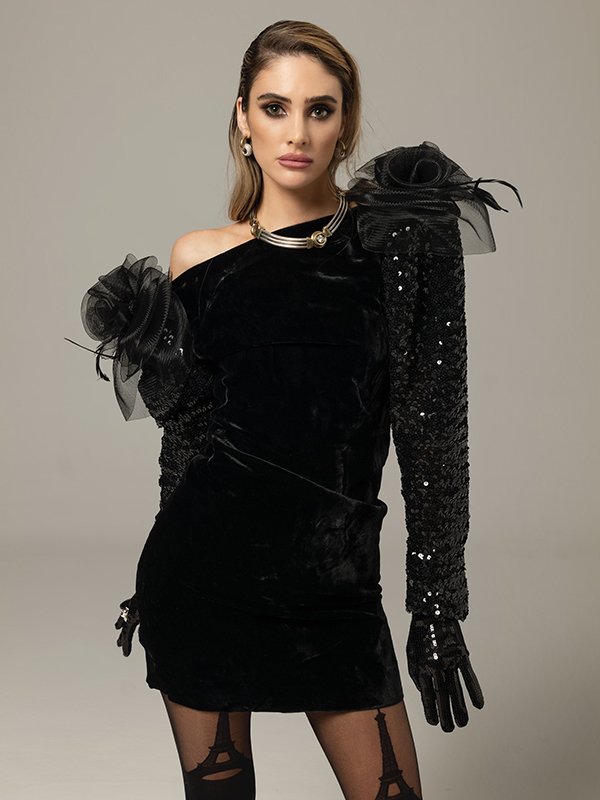 Dress: Emanuel Ungaro, vintage
Shoes: Christian Louboutin
Necklace: Celine
One fashion and beauty advice you wish someone had given you when you started that would have proved to be very helpful?
Slowly blow air out of your mouth in a photo to make lips have a nice keyhole look. Weird I know! I have lots of little photo tricks.
What are some crazy things you had to do on a shoot?
Modelling is hard! Aside from shooting summer clothes in cold weather and vice versa – I have had to shoot hundreds of outfits a day, climb trees, stand on a windowsill of a castle and look natural, ride horses when I am not very experienced, shoot while in a helicopter and run around in heels on cobblestoned streets in traffic. Running in traffic for a good shot is actually normal…
Suit: Baleani
Belt: Elisabetta Franchi
Shoes: Versace
Necklace: Chanel
Bag: Chanel Lego
Time for some revelations! Tell us about your upcoming plans on the professional and personal front?
I have so much coming up in the next few months! I cannot mention everything yet as some things are not released but I want to work with some specific fashion houses and I will work in Milan for a while, then shoots in New York. Cannes Film Festival is in May and Australian Fashion Week too. I will be travelling a lot until the Spring/Summer fashion week shows in September.
I had small involvement in the upcoming Elvis movie with Austin Butler, coming out in June – so maybe you will spot me but my costume makes me look like a totally different person! Currently, I am doing two script readings for one film and a TV series in LA. I am a fashion model much more than an actor but I have been asked to be part of these projects. During covid lockdowns I dedicated my time to acting training in Melbourne in between shoots. Personally, I want to achieve my career and life goals for the year and have a summer holiday in Capri!
Dress: Valentino
Necklace: Bvlgari
Bracelet: Bvlgari
Ring: Bvlgari
Lastly, a piece of advice for our readers?
I would say one of my favourite quotes that I live by is, that you don't need luck if you are prepared. I use this for all of my work. Success can be scary and can mean pushing yourself out of your comfort zone and sacrificing a lot. However, it also creates new paths and comforts. If you want something so much, doing the work to get there is part of the journey. Often the fears people have are not real and just in the mind.