Not Only Tropical Weathers and Hot Season is Romantic, but Winters and Snow Also Steal the Cake Here, Check Out This High-On-Snow Destination!
We talked about the tranquillity of tropical weather and everything hot. But what if someone wants to travel domestically? Let's not make the lovers of India disappointed because we have a getaway retreat in the serene hills of the land of gods or locally known as 'Devbhoomi'; Himachal Pradesh. If you know anything about the Himalayan range and love travelling in India, you must have heard about Himachal Pradesh. In the tall mountains of this region, you'll feel romance like never before. Being romantic is not always about peace and tranquillity but also about adventure and passion. If magic happens at the beaches, then hills are the magician. Don't want to miss the thrill and heavenly blues of the Himalayan range? Then stay tuned while we tell you about a beautiful place!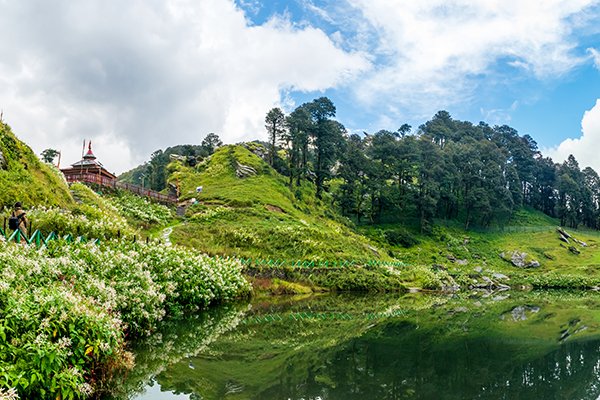 The Crown of The Hills 
You must have heard about the popular quote by John Gay, an American Poet "Over the Hills and Far Away". Everything about hills speaks adventure and a sense of cosiness at the same time. Well, this magical retreat is known as Jibhi.
Located in the Kullu district of Himachal Pradesh lies this heavenly bliss of cinematic views and thrilling treks. Talking about the height of Jibhi from the ground, it sits somewhere around 1600 meters or 5,300 ft from sea level.
Jibhi Village 
Lying in the arms of Tirthan valley, Jibhi has become one of the most popular stays in the whole valley. February is also the perfect time for visiting this village because of the removal of the previous layer of snow and the weather. 
While visiting this place, we would highly recommend that you book a treehouse. Yes, you heard it right. Treehouses are the most popular stays in Jibhi. From luxury to affordable, every type of treehouse is available. 
What is it like living in a treehouse? Well, it's surely a cosy and romantic experience. While sitting in the heats of burning fossils you hold hands and play romantic music engulfed within the cold and fresh breeze of Jibhi, that's the kind of experience we are talking about here.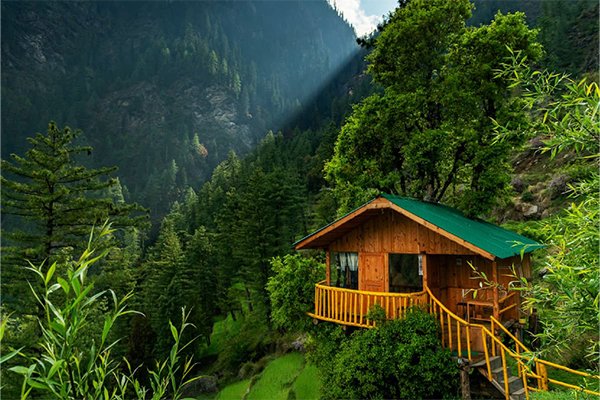 Jalori Pass 
Now we come to the most emphasized and exciting part of this trip; adventure. Jalori pass is located just 12 km and it sits somewhere around 11,000 ft above sea level. You might have not noticed but this 30-minute worth of trip increases the height by almost double the height of Jibhi. 
Jalori Pass also lies in the Tirthan Valley but is a very different experience altogether. This month you might see thick layers of snow and uncarved from the snowy trails would be your path of the trek. Do remember to carry your camera while going here because you are going to need one. 
Chehni Kothi 
Imagine you are in a room full of plants with limited space, would you enjoy that? Well, of course not. Who likes their space to be limited? That's why we have chosen Chehni Kothi for you. It is situated in the Jibhi Valley in a village known as Chehni. 
The villages in Himachal Pradesh are quite fascinating due to the rich history associated with them. Just like every other village, Chehni Village. This 'Kothi' or structure was built for safeguarding the king's regime due to its central location in the valley, it gives quite a 360o view. 
Not only this, but it was also the worship place and storage facility for emergencies. Here you can find immensely dense forests and greenery. Do visit here for blessings and a touch of nature. 
Raghupur Fort 
For archaeology enthusiasts, Raghupur Fort is a sight hard to forget about. This fort is evidence of the area's rich heritage and culture. Talking about the location of this fort, it is located near another village Shoja and provides quite a fascinating view of around 360o that extends till the Dhauladar Ranges.
Originally it is believed to have been made by the rulers of Mandi for safeguarding purposes and attacking the enemy. Along with its geographical advantages, it also possesses some historical values. Completely made by sharp rocks and thick mud, it still stands where it was. 
Although the outer portion of this fort is not where it was back then but the integrity is still here. You can also enjoy a serene lake within the premises. Talking about how to reach this place, you can easily walk as it's 3 km from Jalori Pass, but keep in mind that the last kilometre is not so easy.