"Time, oh time, oh time, what a wonderful game you play, the one who knows you, moves, the one who don't, stays" is a self-written epigram that portrays the difficulties of knowing the time and the excitement that it portrays. Some people consider it as the "Most valuable asset" and some consider it as the "Worst trait of nature".
It goes without saying that time is the most needed element of nature. With time, we keep evolving, and so does our timepieces. But, sometimes it's as important as going back in time as doing the homework for a six-year-old is.  
Let's take a look at today's guest of the show, which indeed will take you back in time, yet elegance would be adorned like a piece of jewellery!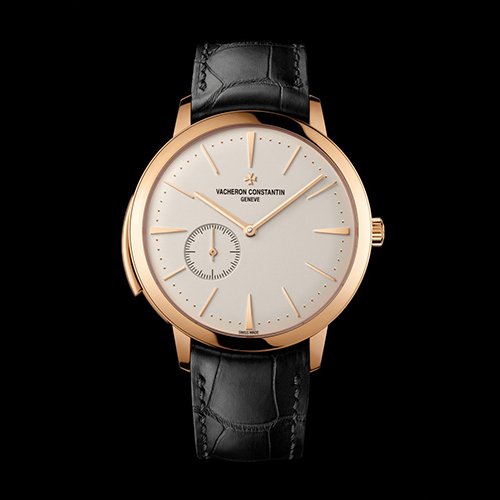 The watch we are talking about today is Vacheron Constantin's Patrimony. Patrimony literally means the property inherited from the parental side of the family. Can the patrimony include this patrimony too? Well, let's find out. 
The thing that you'll notice right away after taking the first look at the watch would be the classic Swiss design. You can rock this watch and from miles away, anyone would be able to tell where's it from. One of the main emphases is on the size of the watch. It is made to be ultra-thin and ultra-light. If this watch is to be categorised, then it would fit somewhere in the category of "Dress watches". 
A tuxedo or a formal coat would be the perfect go-to if you are choosing this Swiss-made for your wrist. Featuring Vacheron Constantin's Caliber 2450 in-house movement, it rocks a half-transparent, half-handcrafted design from the rear and a rather less-detailed design from the front. 
While dress watches are meant to be subtle and elegant but that doesn't mean that any compromises should be made in the craft or quality. While the smallest of the smallest details were being inspected, the only thing that seemed irritating to our eyes was the second's dial. The second's dial lacked curvature and that golden blemish didn't go at par with the hours and minutes dial. It seemed way too flat which could be a bummer for some. 
Talking of curvature, the sapphire crystal glass adorning the watch also lacked curvature, if it was a tad bit precise, the body would've flowed completely within the theme. Rest assured; the date monitor could be seen on the right of the watch. Golden highlights in the form of circular filled dots represent the hour format. If you are a watch enthusiast, this watch can make some space in your collection.