An Eyeshadow Palette Can Either Make It Or Break It For You When It Comes To Achieving The On-Point Makeup Look. Will This Tom Ford Palette Become One Of Your Favourites? Let's Find Out.
It is often said that eyes speak a lot. About one's personality, one's emotions and inner spirit. Not only are they a reflection of our inner self, but they also have the power to reflect what's in the heart. Apart from all the metaphorical lovely notions, the eyes are one of the most attractive features on the face that may draw anyone in with just a quick glance.
If you're someone who loves the glam bam of makeup, you know how eyes act as a brilliant canvas for makeup. Enhancing the
shape and look of your eyes with flawless eye makeup, you can attain a look which can grab all the attention when you enter a room full of people. Some people prefer to keep their makeup minimal but glossy, while others enjoy playing around with colours on their eyes. If you want to pull off any of these looks or others, all you need is the perfect eyeshadow palette.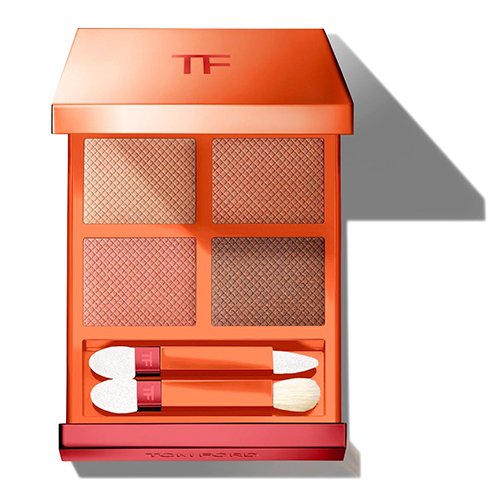 The Bitter Peach palette by Tom Ford features a selection inspired by the warm tones of peaches that are mellowed. It is the perfect amalgamation of all the shades that one might need. Be it a matte, shimmer or luminous look, this colour palette has the potential to serve all your needs while giving your eyes a versatile look. Consisting of light to medium peachy shades, along with complementary warm neutrals, this palette will help for both natural and more intense eye makeup styles.
When it comes to pigmentation, you might get a dose of disappointment from this palette by Tom Ford. While trying to get a swatch of colours, you might just get thin air on your fingertips. The powder appears to get harder when exposed to any amount of dampness. Tom Ford products are known for their longevity, and the Bitter Peach Eyeshadow Palette might also live up to this expectation.
However, the formulation of this palette seems to fail the up-to-the-mark column, as customers have also grumbled about
the patchiness the product leaves behind. The Tom Ford Bitter Peach Eye Color Eyeshadow Palette is a luxurious and highly sought-after makeup product offered by the renowned fashion and beauty brand. This eyeshadow palette is designed to enhance and define the eyes. At the same time, we're not quite sure if this would be the perfect pick for you. The decision is yours, so make sure you make the right one for yourself.