Complete Your Perfect Day With A Touch Of Elegance. Confused About How You Can Elevate Your Bridal Look With An Exquisite
Clutch? No Sweat Darling, We've Got You Covered.
The timeless allure of high-end designer bags, crafted from the finest materials with meticulous attention to detail, ensures their value is appreciated. A woman who invests in luxury bags is not only investing in the intrinsic value of the bag itself but
also in the reputation of the designer brand. These brands are recognized globally for their quality and craftsmanship.
They are also highly versatile and adaptable. A well-chosen luxury bag can elevate any outfit and make a bold statement. Since it's the wedding season, how can we forget the brides who are about to enter a beautiful phase of their lives?
On the most important day of her life, a bride needs to be prepared for every ceremony, and a clutch or handbag can prove to be an essential accessory in this regard. A bridal clutch or handbag is a stylish addition to a bride's wedding attire. Also, not to miss the practical purpose that allows her to carry essential items such as lipstick, tissues, and perhaps even her phone. A clutch or handbag can also serve as a statement piece, complementing the bride's wedding dress and adding an extra element of elegance and sophistication to her overall look. With so many styles and designs available, a bride can choose a clutch or handbag that perfectly matches her dress. Take a look at the specially curated suggestions for you!
1. JUDITH LEIBER COUTURE, ROSE CRYSTAL-EMBELLISHED SILVER-TONE CLUTCH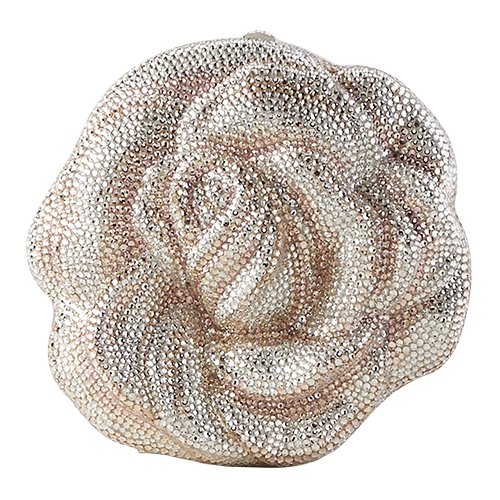 Delivering bags and accessories in the world of fashion, Judith Leiber is a showstopper. The dainty, vintage-inspired purses, handbags, and clutches stand out, thanks to bands of thick crystals with jewellery-inspired design and a silky tassel. The silver clutch bag by the brand is the perfect emblem for any bride's dream attire. Contrived into an elegant and musing rose design, this clutch bag is nothing less than a daydream. A stunning clutch that is a true collector's item is made with eye-catching silver handset crystals and a subtle rose design.
When it comes to quality as well, the brand sets the bar high. With a metallic leather-lined interior, the bag will not hurt when you go on to find your essentials. It also comes with a removable classic chain to help you get rid of the hassle of carrying it
in your hand.
2. ANYA HINDMARCH, MAUD WOVEN SATIN CLUTCH
There is no chance a woman can carry enough stuff in her bag no matter even if it is her own wedding. If you ask for a bag that would contribute to the space you need with class and style at the same time, our answer would be this woven satin clutch by Anya Hindmarch.
The 'Maud' clutch oozes classic glitz. It is made of ivory satin and has a gilt tassel-shaped clasp on top. Time to keep your phone, cards, and lipstick securely tucked away within. Not only this, this bag would complement your wedding attire the best
and you can even use it afterward for a formal and classy look. It comes with a beautiful knot lock at the top to keep your essentials safe. Made with the finest craftsmanship from Italy, the bag would be a perfect fit with its ivory satin shrieking grace.
3. ALEXANDER MCQUEEN, FOUR RING EMBELLISHED SUEDE CLUTCH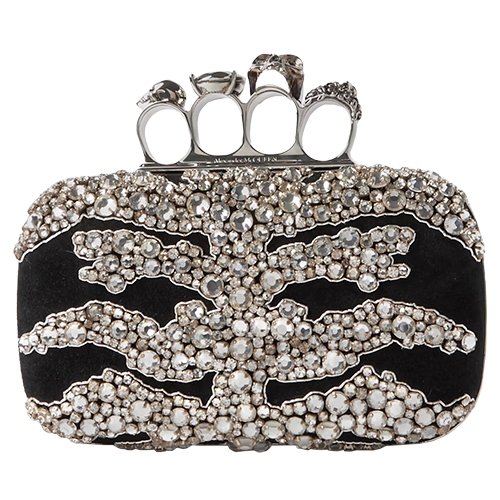 Ladies, if this clutch right here does not melt your heart, we don't know what will. This one is a true masterpiece, showcasing
Alexander McQueen's commitment to exquisite craftsmanship and attention to detail. It is a must-have accessory for anyone looking to make a bold statement and elevate their style to the next level. And what better way to do it rather than your wedding!
The Alexander McQueen Four Ring embellished suede clutch is a stunning and elegant accessory that embodies the brand's signature style. Crafted from luxurious suede, this clutch features the iconic four-ring closure, which is adorned with crystal detailing, adding a touch of edginess to its sophisticated design. The clutch is perfectly sized to hold all of your essentials, and the interior is lined with soft leather for added durability and protection.
4. JIMMY CHOO, MICRO CLOUD BOW-EMBELLISHED SATIN CLUTCH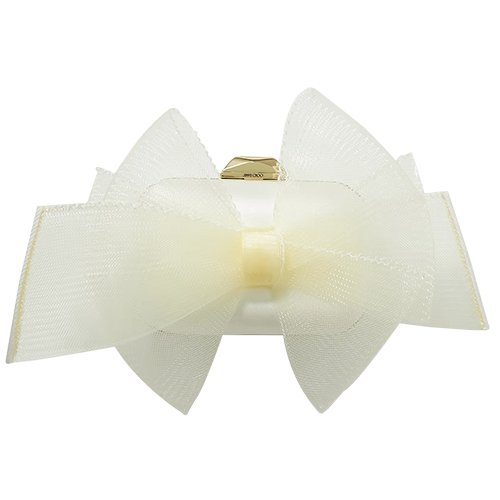 The satin clutch by Jimmy Choo, the brand known for its exceptional craftsmanship and attention to detail, is a stunning
example of elegance. This gorgeous clutch is made of lustrous satin and has a soft, cloud-like bow adornment that gives it a
playful, whimsical touch to go with its sleek and stylish style.
The clutch is the ideal size to fit all of your necessities, and the interior is lined with supple leather for the durability and protection of your possessions. The small size and lightweight design make it the perfect accessory for every situation,
especially your wedding.