Dive In To Find A Pair From A Beloved Italian Brand, And Get Over It! Want To Know Why? Read Ahead And Find What's In For You.
Every girl desires for a designer pair of shoes that can just fit right. But it is paramount to one's interest that quality and looks should not be compromised. Designer sneakers have been in the market for quite some time now. Popular designer brands like Chanel, Fendi, and Louis Vuitton are in a race that is never-ending. Everyone makes designer products, but the consumer seeks surety. Surety of quality, surety of uniqueness, and surety of getting what they demand.
We want you to get the best of the best but before buying anything, checking what other consumers, who have actually bought the product feel after using it is important. So, to serve as a one-stop place for all your luxurious needs, we have bought a pair of sneakers that you should definitely check out!
An Italian luxury fashion house, Fendi is a brand producing fur, ready-to-wear, leather goods, shoes, fragrances, eyewear,
timepieces, footwear and accessories.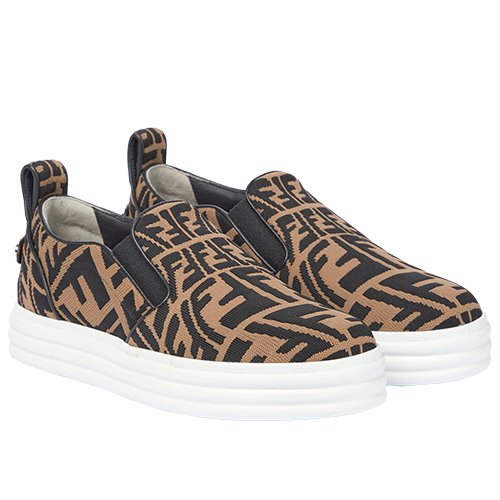 Founded in Rome in 1925, it is known for its fur accessories, and leather goods. Since 2001, Fendi has been part of the "Fashion & Leather Goods" division of the French group LVMH.
Let's have a look at the brand's, Rise FF Vertigo slip-on sneakers, which are actually a lot heavier in terms of what designer shoes should weigh. No doubt, these are a pair of cool trainers but there is no padding, which gets really hard on feet. These slip-ons have no way to fasten up in your feet which results in swiftly sliding off from one's feet.
Nonetheless, this is the ultimate nature of the style of shoe, but Fendi definitely needs to get the fit better. The back of the sneakers feel very hard and can consequently result in catching blisters. Many customers have complained about the back of this pair, they even got fixed by some substitutes. But this pair of sneakers just don't work out.
If you're looking for a pair of sneakers to wear once in a blue moon, this can be your perfect piece. But if you're looking for something long-lasting, you just can't wear it for a long walk. Going by the looks of these, it's a unique color scheme, which
makes it appealing, but the discomfort is not what one looks for in a designer pair of shoes. So, make a wise call!