Meet Our Cover Star For The April Issue, Nguyen Dieu Linh, whose beauty resonates like a majestic star. Looking like an angel, she is absolutely killing with serenity.
Team Credits:
Talent: Nguyen Dieu Linh
Photographer: Milor Tran
Art Director: Kye Nguyen
Stylist: Tien Nguyen (Kye Agency)
Set design: Nina Nguyen
Make up: Thai Vu Tai Ngan (Sol)
Hair: Pom Charles
Nails: Nailstick by Pang My Nguyen
Female entrepreneur Nguyen Dieu Linh always focuses on strategies to make Weilaiya a sustainable brand. A comprehensive transformation brings women the most perfect beauty.
Nguyen Dieu Linh is an entrepreneur and Chairman of Weilaiya Vietnam. Being an entrepreneur, she has brought the Weilaiya brand to achieve certain successes in the cosmetics market. In addition, Weilaiya is also the first cosmetics brand to launch the "million-dollar live campaign with 10 warriors on Tiktok in May 2023.
After many years, entrepreneur Nguyen Dieu Linh succeeded in bringing the Weilaiya cosmetics brand to Vietnam, founding and developing the Wonder Union Limited Liability Company. She is always ready to share her valuable knowledge and experience and strives to spread positive energy to the community.
Weilaiya is considered a natural skincare and haircare brand from Hong Kong. Using natural herbal ingredients combined with reputable global raw material suppliers. The precursor of Weilaiya was born in 1985 in Germany, with its origin in hair care products designed for high-end salons created by Chinese experts. From the early days of its establishment, Weilaiya has cooperated with the famous global fragrance company Givaudan, specializing in the production of perfumes for brands like Dior and Chanel. This is the starting point for the captivating and sensual perfume scents in the brand's products.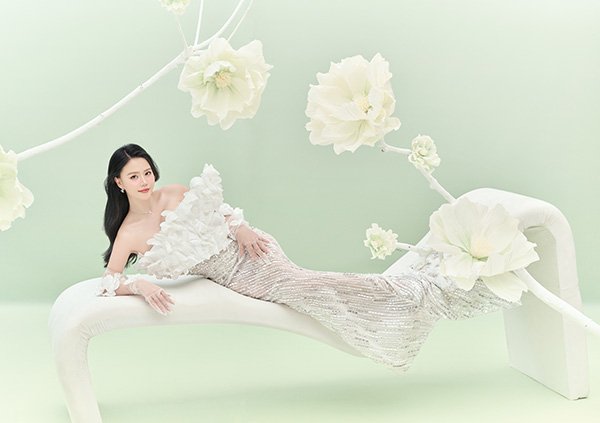 Costume: She By Hoa Nguyen (SBHN)
Accessories: Swarovski
 Hi Nguyen Dieu Linh! Welcome to L'Officiel India! Starting from where everything began, when did you get the passion of building a brand of your own?
I started my business when I was very young. As soon as I grew up, I didn't want to waste my time meaninglessly. While my friends used their phones for entertainment, I used mine to search for opportunities and earn an income for myself.
During my time studying in the UK, I pursued a Master's degree in Business Administration and often visited shopping centers with a diverse range of products that overwhelmed me. I truly understood that I was interested and extremely passionate about doing business. The more I did it, the more excited I got, and especially, I didn't feel tired. I started looking for suitable business sectors and tried them to gain experience for myself.
What have you learned while building your brand, Weilaiya?
Weilaiya has taught me a lot about doing business and handling work, working with people, and effective marketing secrets that still optimize costs. I had a dedicated mentor, Mr. Tom, from Boss Zhang Ping's company, who helped and supported me a lot because they believed in my big dream, helping me expand and explore the Vietnamese market.
What does Weilaiya mean to you?
Weilaiya is my brainchild, the result of dedication and effort. What's important is the recognition of my name in the cosmetics industry.
Please share some core values that Weilaiya brings to Vietnamese customers, as well as your business philosophy.
I am determined to make Weilaiya a leading cosmetics brand in Vietnam. For me, the word "brand" means "love" and "recognition." Therefore, I focus on strategies to make Weilaiya a sustainable brand, introducing products that fully satisfy the five sensory experiences of even the most demanding customers, bringing about a comprehensive change that gives women the most perfect beauty.
In addition to consumers trusting the products, Weilaiya's customers are distributors and business people. What I will bring to Weilaiya in 2023 is an elevation of value, becoming a profitable career investment project for both agents and customers with four core values: Profitability – Happiness – Life value – Enjoyment of stature.
What is your assessment of the cosmetics industry in the Vietnamese market and the demand for cosmetics among Vietnamese consumers?
Vietnam is currently a very promising market, and Vietnamese consumers are becoming increasingly discerning. They believe in the experience and want safe, long-lasting beauty. They want to spend on products that are truly worth their price and effectiveness. What helps Weilaiya gain customers is trust and credibility, encouraging them to use the brand's products, and what differentiates Weilaiya to compete in the market. Specifically, in 2022, Weilaiya's Ginger Shampoo line surpassed all other well-established names in the cosmetics industry to win the award for the "Most Beloved Shampoo". It was a treat to know that Weilaiya was the first brand in Vietnam to offer a ginger-based shampoo that supports hair growth, using ingredients from Van Nam ginger.
Marketing products always come with certain challenges. How do you approach bringing cosmetics products to customers?
While people perceive Weilaiya as a high-end product, it is actually a premium product that the company sells at a mid-range price, and with promotions, the price becomes very affordable. However, the principle that I always keep in mind is that Weilaiya's creators must use high-quality ingredients in the products, bringing happiness to customers when they experience our brand's products is our eternal aim.
To market products, it is important to have a team with the same thinking. How do you train and develop your staff to convey the right message about the products to customers?
Selling through a network of distributors and agents, I always provide clear guidance on the products. I focus on identifying the true value of the products so that they understand and can convey the correct message about the products to customers. In addition, each product launch comes with comprehensive training campaigns on professional knowledge that is continuous and never stops.
I have trained our staff about promotions and unique selling points of the products to help agents and distributors have a clear understanding of the products and accumulate the necessary knowledge to professionally convey the product's story to customers. I pay great attention to "Knowledge and a Positive Environment," so I proactively create a dynamic and effective business environment. I continuously collaborate with experts and skilled trainers in the business field to train our team of agents and distributors with the latest and most effective business knowledge to achieve the brand's goals.
With these measures, I regularly organize parties and five-star travel experiences for our distributors and agents to help them adopt high-end thinking and convey the right message about the product to customers. From Weilaiya products to the team of distributors and agents, I meticulously invest in and nurture them, ensuring consistency from the product to the salesperson, as they are the ones who play a crucial role in conveying the product's message to customers at the final stage.
Costume: She By Hoa Nguyen (SBHN)
Accessories: Swarovski
In the era of Industry 4.0, many brands use KOLs and celebrities to spread their brand story and even educate customers. How do you feel about this approach for Weilaiya and how do you spread the brand's message to customers?
Weilaiya has done a great job in marketing by using a series of KOLs and celebrities to share the brand's message, such as ambassadors H? Ng?c Hà and Ninh D??ng Lan Ng?c. This marketing approach is very effective in spreading useful information to customers. Market education is a crucial issue that the Weilaiya brand has had to invest a lot of resources in to implement.
All Weilaiya products are designed and manufactured using advanced technology and high-quality ingredients. A prime example is Weilaiya's famous product line – the ginger and polygonum multiflorum shampoo, which ranked first among consumer favorites in the awards ceremony.
The product is made from Van Nam ginger, a well-known ingredient for hair growth support, and a restorative shampoo derived from sturgeon eggs and premium truffle mushrooms. Not only does it create a smooth and shiny appearance and bring a luxurious scent to the hair, but it also addresses oily scalp issues – especially combating scalp aging. These aspects are promoted by celebrities and KOLs, so customers will have a better understanding of the products and the brand.
Throughout your journey with Weilaiya, what have you gained and lost?
I feel that I haven't lost anything in this business. For me, achievements are considered rewards. What I haven't achieved, I view as valuable lessons. I have gained a lot from the business journey with Weilaiya, especially in building strong relationships with many beloved partners and friends from all around the world. I have earned their trust, and I have put in my utmost effort. Together, we continually move forward to achieve our shared goals.
Costume: Le Ngoc Lam
Accessories: Hermes, Swarovski
What are your ambitions for Weilaiya? What expectations do you have for the brand's development?
As the exclusive distributor of Weilaiya in Vietnam, I always demand high-quality for cosmetic products produced for the Vietnamese market. We buy patents, import fragrances from Givaudan, and use the most advanced active ingredient technologies. Especially with hair care products, I want to break all the old limits that other product lines cannot achieve.
The more "limits" I face, the more I enjoy overcoming them. You can see that Weilaiya always has "limit-breaking" features to impress customers spectacularly. When I introduced natural ginger shampoo to the premium customer segment – modern, charming women – I faced the limitation of the story that "natural shampoo doesn't smell good." However, Weilaiya conquered them by solving the hair loss issue with natural ginger and a luxurious fragrance that exceeded their expectations.
I have also won over the most demanding customers. The ginger and Polygonum multiflorum shampoo has won many prestigious awards and gained the trust and love of customers. When Weilaiya launched high-end hair care products like super-nourishing hair restoration oil, hair mask for strong hair transformation, or hair nourishing oil with perfume scent, I continuously faced "limitations." While solutions for super nourishing hair usually weigh down the hair, making it sticky and impossible to achieve a voluminous look, Weilaiya's product line for damaged hair restoration focuses on hair volume and fluffiness. If it's about high effectiveness, the price is usually costly, but Weilaiya has offered a perfect solution for users by using premium ingredients like Damask roses, truffles, and sturgeon roe at a reasonable price.
Intensive hair care improvement usually takes time and requires meticulousness, but all Weilaiya products are for home use, so they must cater to the quick and convenient standards for our busy and beautiful customers. I have been very strict about product quality and ensuring that customers have an excellent experience using the products.
From the beginning, I have pursued the goal of taking the Weilaiya brand worldwide, conquering the most stringent standards of international customers. The high-quality product standards I have set have been recognized, and I feel confident investing in foreign markets. I have thousands of distributors from the United States, Australia, Malaysia, Thailand, Laos, and more, and there will be aggressive development strategies for foreign markets in the near future.
From your perspective, what can be considered a successful business? What is your measure of success?
If you had asked Nguyen Dieu Linh this question 1-2 years ago, I would have answered that success means achieving all the things you desire, and you must be genuinely happy and content with yourself. However, at this point in time, I have changed my perspective on success; I believe that my mission is to help others become successful, and this is an essential part of it.
When a business operates well and develops, it undoubtedly creates many business opportunities to generate income and improve the quality of life for many people. I realize that I am someone who can inspire and motivate others to develop their own career paths.
My current measure of success is providing opportunities to create many successful individuals who can earn a lot of money based on their abilities and elevate their lives. Running Weilaiya business not only benefits the community and society but also establishes a benchmark for the brand's success.