Classy Watches On Your Wrist Might Impress Some People, But Can It Call You An Uber, Fire Off A Text, Or Can Catch You Up On The Latest Footy Scores? Don't Worry Smartwatches Got You Covered!
Timepiece is one of the most ubiquitous accessories, ever since the invention of the watches, back in the 15th century. From 17th century, watches have evolved so much since its inception. It's an element of style that combines fashion and function
like no other accessory known. Nowadays, even though phones have evolved so much and one would think that the wristwatch will soon be left behind and abandoned, you don't need to look too far to prove it wrong. Watches are here to stay. And not only that, but they have also seen great advancement, combining technology with watchmaking excellence. The smart watch is a wonderful piece of gear that can do a lot more than its original role of timekeeping. These are literally tiny computers worn on one's wrist having several functions such as GPS tracking, portable media players, thermometers, accelerometers, altimeters, barometers, compasses, fitness trackers, call or text message alerts. What more could one ask for from a smartwatch!
LOUIS VUITTON, QBB187 TAMBOUR HORIZON LIGHT UP CONNECTED WATCH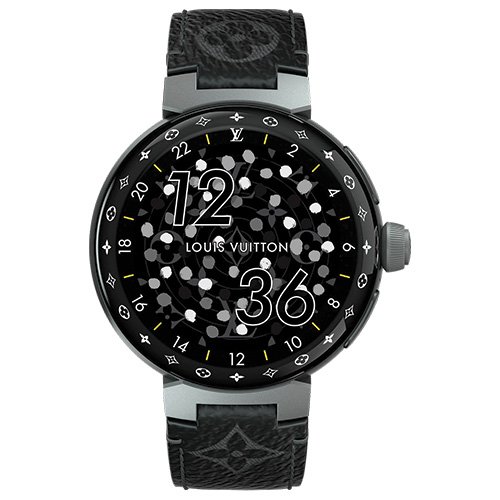 LOUIS VUITTON, QBB187 TAMBOUR HORIZON LIGHT UP CONNECTED WATCH
Launched by the luxury fashion house LVMH, the Tambour Horizon smartwatch offers several case colours. The latest Tambour Horizon follows up on LV's classic watch portfolio from a design and stylistic perspective. The line offers black, graphite, and monogram bodies, all paired with a large selection of leather straps. While all Tambour Horizon watches measure 44mm in diameter and 13.2mm in thickness. Each smartwatch carries a sapphire crystal glass face embossed with the Louis Vuitton logo on the back of the stainless steel case. However, the show's star, the watch sports a sapphire glass adorned by 24 LED lights, creating a mesmerising glow-in-the-dark animation. Featuring built-in watch faces that echo the House's timeless design codes as well as endless customisation possibilities, Tambour Horizon Light Up can be moulded to the preferences of its owner.
BREITLING EXOSPACE B55
After clinging to the classic Swiss watch mechanism, Breitling has decided to attack the luxury smartwatch market. The Breitling Exospace B55 watch has a casing made from titanium. Compared to other watches embedded with wearable
technology, Breitling's smartwatch has unique features, such as dual time zones on digital and analogue displays. Also,
Breitling's watch has analogue hands to look and function like a mechanical watch. It is a smartwatch that lets you make calls,
send texts and emails, and perfectly deal with social media notifications. Paired with a high-quality organic rubber strap, this
water-resistant watch has a unique look, style, and price. The user-friendliness of this model is enhanced by the simple and
logical control mode, and two ultra-legible LCD screens with backlighting system that can be activated by pressing the crown or tilting the wrist. This futuristic, high-tech innovation features a titanium case with rider-tab bezel as well as a sturdy, sporty strap.
TAG HEUER CONNECTED SPORT EDITION CALIBRE E4
TAG HEUER CONNECTED SPORT EDITION CALIBRE E4
If it's luxury you're after, look no further than TAG Heuer's Connected series. The Swiss watchmaker's foray into clever watches is in its fourth generation, and you'll find all the regular smarts you've come to expect, including health tracking, day-long battery and notifications for your socials and texts. Visually, it's almost a like-for-like swap from last year's model, but then again, there's no need to improve or change anything that looks this good. Those on the hunt for high-end wearables should take note. However, with the launch of the Connected watch, TAG Heuer has become the king of engineering capabilities in luxury smartwatches. If the tech doesn't impress you, your purchase can be justified by the casing made from 24-karat gold or
by the diamonds spread all over the band, case, and watch face, almost like confetti.
DE GRISOGONO, SAMSUNG GEAR S2 41MM SMARTWATCH
DE GRISOGONO, SAMSUNG GEAR S2 41MM SMARTWATCH
De Grisogono Samsung Gear 'Galaxy watch' is the unexpected result of a rare partnership between Samsung and Grisogono. Wrapped in Grisogono's unique design and packed with Samsung Gear S2's technological prowess. The round shape and a gold body studded with 71 black and 56 white diamonds turn this Galaxy watch wrap into a perfect example of sophistication and creativity. Bearing the brand's specific design codes, scrolling motifs, subtle shades of rose gold, and emblem, this smartwatch stands out from a mile. Powered by the Gear S2 function with a menu of digital applications and features, this 41mm timepiece is finished with sparkling white and black diamonds on the navigation bezel.