Countdown To Christmas Begins, And That Means Party Season Is Now Underway. What Can Be A Better Time Of Festive Cheer To Experiment With Colours And Sparkle? Hop On To Know The Best Christmas Essentials!
During the holiday season, everyone becomes so focused on what to wear that in the end, we have the right outfit, but not the right makeup looks to go with it. If this problem is all too real for you, don't worry, we've got you covered. Christmas is a time for bright colours, sparkles and a whole lot of glitter. To ensure you are Instagram photo-ready, here are our recommendations of the best beauty essentials you need! We also love to spy on the new makeup tools and what new methods can be used to get a great polished look. And as everyone's beauty preferences vary, we have looks that are subtle but still extremely glam. So Ladies, start taking notes!
1. ICY HOLIDAY GLAM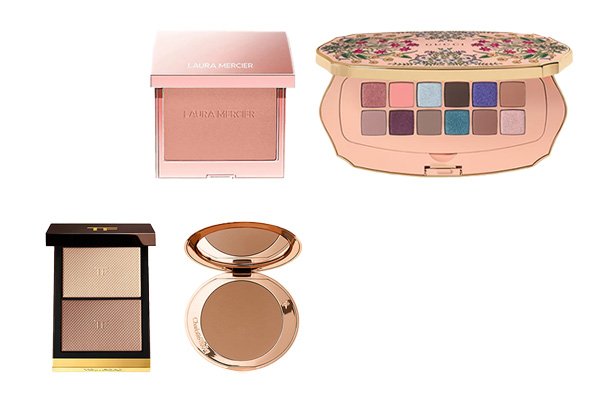 1. GUCCI, Beauté Des Yeux Gorgeous Flora Eyeshadow Palette, approx. Rs. 12,430 Shade – 03 Silver Sky (Silver blue) and Gorgeous Turquoise (Turquoise)
2. CHARLOTTE TILBURY, Airbrush Bronzer, approx. Rs. 4,580 Shade – Medium
3. LAURA MERCIER, RoseGlow Powder Blush, approx. Rs. 2,780 Shade – All That Sparkles
4. TOM FORD, Shade and Illuminate Highlighting Duo, approx. Rs. 7,360 Shade – Moonlight
The frosty eyeshadow is reminiscent of a gorgeous snowfall. Give the look some dimension and a bit more pop, by applying the silver blue eyeshadow. The real star of this look is the shimmery, gorgeous turquoise shadow on the center of the eyelids. The bronzer and highlighter will add bliss to your look.
2. MINIMAL BUT CLASSY WINGED EYELINER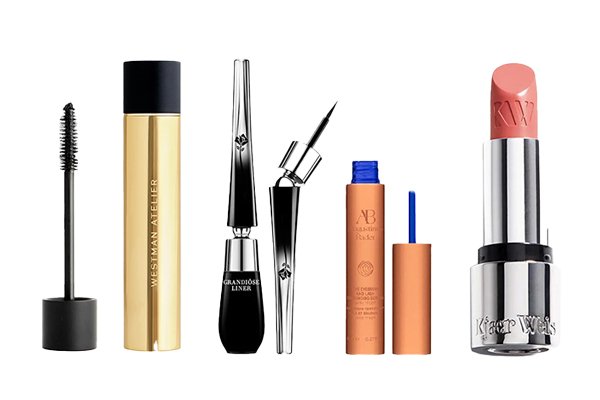 1. WESTMAN ATELIER, Eye Love You Mascara, approx. Rs. 4,740
2. KJAER WEIS, Lipstick, approx. Rs. 2,450 Shade – Blossoming
3. AUGUSTINUS BADER, Eyebrow and Lash Enhancing Serum, approx. Rs. 9,400
4. LANCOME, Grandiose Bendable Liquid Eyeliner, approx. Rs. 2,620
Create super-bold wings, gloss your eyebrows, and swipe on the glam makeup moment that's perfect for Christmas dinner. To enhance your eye shape while still maintaining a soft, ethereal look, create a winged eyeshadow eyeliner. The mascara and lash enhancing serum will add tons of thickness to the lashes without weighing them down. For ultra-dramatic lashes, apply two to three layers of mascara. 
3. THE BOLD RED LIPSTICK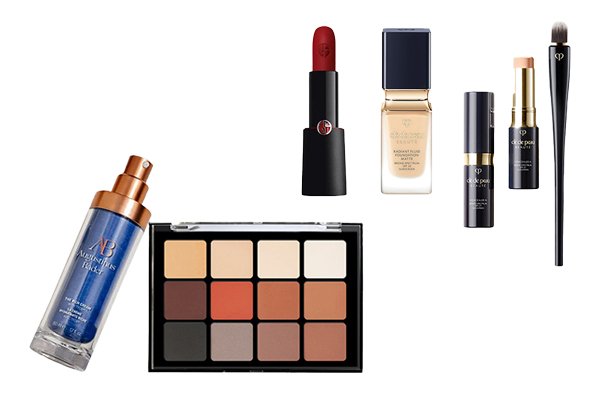 1. CLÉ DE PEAU BEAUTÉ, RADIANT FLUID FOUNDATION MATTE SPF 20, approx. Rs. 10,630 Shade – O30 / Medium Ocher
2. CLÉ DE PEAU BEAUTÉ, Concealer SPF 27, approx. Rs. 6,130 Shade – Ivory
3. AUGUSTINUS BADER, The Rich Cream, approx. Rs. 22,900
4. VISEART, Neutral Matte approx. Rs. 5,800 .
5. ARMANI BEAUTY, Rouge D'Armani Matte Lipstick, approx. Rs. 3,110 Shade – 400
When it comes to creating a statement, bold lip, a red lipstick is the go-to lipstick. For those who like their makeup look to be high-drama and high-coverage, look no further as this is perfect for you! This easy going makeup look is a great way to add a pop of holiday colour into your look. After all, red lipstick is truly classic. Words that describe the overall look: Vivid, head turning, and sophisticated.
4. LUMINOSITY AT ITS BEST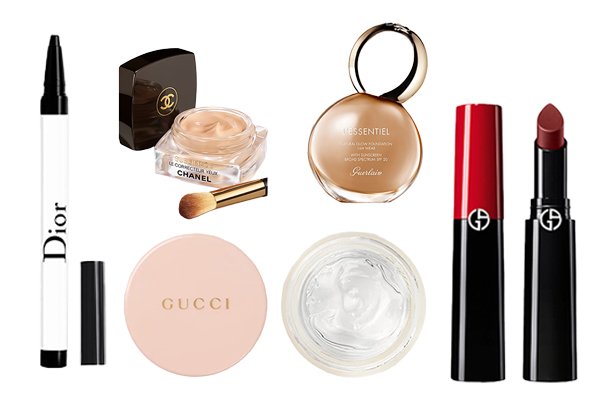 1. GUERLAIN, L'Essentiel Natural 16H Wear Foundation SPF 20, approx. Rs. 4,910 Shade – Medium warm
2. CHANEL, Radiance-Generating Concealing Eye Care, approx. Rs. 7,770 Shade – 10
3. ARMANI BEAUTY, Lip Power Long-Lasting Satin Lipstick, approx. Rs. 3,190 Shade – 504 Flirt – deep mauve pink
4. GUCCI, Éclat De Beauté Effet Lumière gel face gloss, approx. Rs. 2780
5.DIOR, Diorshow On Stage Eyeliner, approx. Rs. 2610 Shade – 001 Matte White
You'll be the cutest reindeer ready to lead Santa's sleigh in this Christmas look! Draw little spots along your temples and cheeks with a thick white eyeliner. Feel free to take creative control with this look, placing your spots wherever you want. Liberally coat your lashes, focusing primarily on the lashes along the outer corner of your eyes to get that doe-eyed look. The face gloss will add the right amount of shine to your cheeks for a glamourous luminating look.