He's witty and you'll instantly have a crush on him. It was a pleasure interviewing this sexy beast, Braeden De La Garza. Keep reading to know all about this handsome man! 
Born in Texas, entertainment has always flown in his blood. With a desire to enter the field at a very young age, Braeden is one passionate soul who is sure about what he wants. We consider him a man with many talents, be it in the sphere of art or music. Speaking of music, you'll probably run out of instruments to name, but his skills in this sector are divine, and to our surprise, he's self-taught and hasn't taken professional learning. We had a fun time interviewing the next big star, Braeden De La Garza. Our conversation is witty and wild, and you'll learn so much about him; from his childhood, how his acting journey started, and what to expect next from him. Read ahead!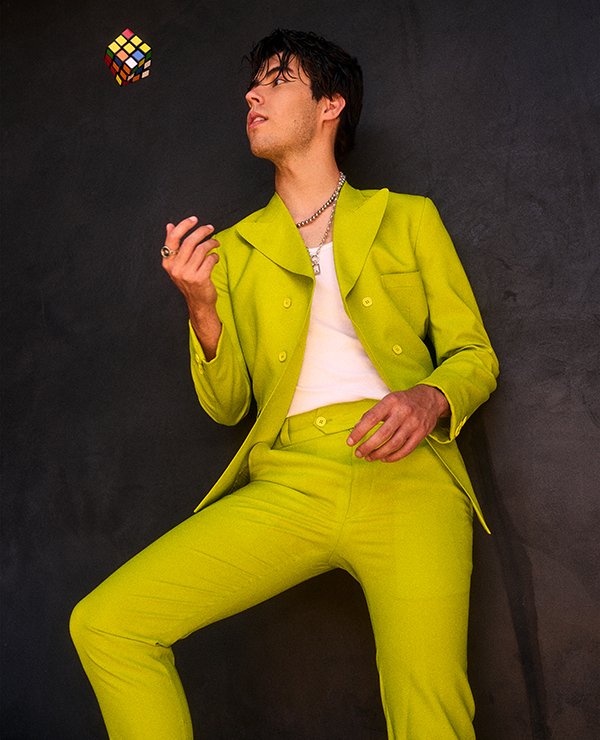 Welcome to L'Officiel India. Were you always inclined towards starting a career in the film industry, how did it happen, and who were your inspirations? 
When I was about seven or eight, I would spend a lot of time watching TV with my mom. We'd watch shows like Private Practice, Army Wives, Lost, etc. For some reason, one day it just clicked in my brain that the people I was watching on-screen were real. I can't really explain it. Suddenly I just saw everything from a different perspective, and thought to myself, "Well that seems like it would be fun." I began studying the craft and taking in as much info as I could, watching films of renowned actors like Paul Newman and James Cagney on the older end, and Leo and Johnny Depp on the more contemporary end. 15 years later, here I am.
You landed a leading role in 'The Quest,' how would you describe your journey while shooting and after the release of the series? 
This is an interesting question because of just how much time elapsed between shooting the series, and its release. When shooting, we were all so excited and enthusiastic about every aspect of the process, from wardrobe fittings to actually being on set and performing. It was an incredible experience to be a part of such a groundbreaking, new form of storytelling and I was living 'The Quest' daily. After we wrapped, I was waiting with bated breath for a release date, or rollout plan. As the weeks passed, then months, the enthusiasm and constant attention that I put towards 'The Quest' waned a bit, as I moved across the country, started a new job, continued to audition, etc. Just as 'The Quest' left my everyday thoughts, about a year later, I got word that we had a release date! I attended everything I could, kept up with the fans, and now we're here! It's been so rewarding to see the response from the fans, and I am so thankful for the outpouring of support from everyone.
We were beyond shocked while hearing about your skills in the music sector. You play guitar, piano, drums, bass, ukulele, and the harmonica. Will we see you entering the music industry anytime soon? While on it, who are your absolute favorite artists? 
That list of instruments is always brought up, and while it's true that I play all of those instruments, I want to put a disclaimer out there that it doesn't mean I play them well! Hahaha. I'm self-taught on every instrument I play, so my experience level varies depending on who you talk to. As for the music industry, I've toyed with the idea of releasing music. I've written and fully produced quite a few songs all on my own (à la 'McCartney' 1, 2, and 3), but I did it for my own enjoyment, without any plans to ever release them. However, since fielding so many press questions recently, I've started to consider it, because why not! I guess we'll have to wait and find out. As for who my absolute favorite artists are? There's only one, and it's Paul McCartney. He can do no wrong in my eyes. He could record a jellybean rattling around in a tin-can and I would have it on repeat for the next 6-8 months. 
Speaking of your acting career, you recently announced season 2 of 'Cruel Summer' . What should the fans accept from your role as Brent this time?
While I can't say too much about the series, I can tell you that Brent Chambers is a multi-faceted character that I think the audience will definitely find interesting to watch. Having the honor to create Brent Chambers and spend months cultivating and realizing more things about him has been incredible. From top to bottom, the people working on this show are the best of the best, and I am blessed to be able to share the screen with some of the most talented actors I've had the pleasure of working with.
What does a free day in the life of Braeden look like, how do you like to spend time while not working on any projects? 
I actually work a part time job at a self-tape studio. For those who don't know what that is, essentially, I read for, record, and edit auditions for other actors. I find it to be incredibly rewarding, as I continuously hone my craft while helping other actors hone theirs. When I'm not working, I'm usually either playing music, auditioning, on a walk, or finding something random to do in LA. I'm a sucker for hearing about something cool through word of mouth, and immediately seeking it out to experience it myself. If I'm not doing any of the above, I'm probably asleep.
Your support for the organizations MusiCares and The Trevor Project is impeccable, can you tell us more about what they do and why you support their purpose?  
The Trevor Project focuses on creating a safe environment for people in the LGBT+ community to be themselves. I've seen firsthand how hard it can be for those who aren't accepted for who they are amongst their peers, and sometimes even their own families. Everybody, no matter how they identify, should be able to have a place that they feel comfortable in, and the Trevor Project is constantly working towards that goal.
Name one actor, actress, and director you'd love to work with in the future and why?
I would love to work with Jason Bateman. I feel like our acting styles are similar and I can just imagine the energy that we could bounce off of each other. I'd also love to work with Toni Collette. She's a powerhouse and I feel like I would become a better actor just by being in her presence. As for a director I would want to work with? I'd have to say Martin Scorsese. His ability to collaborate with actors and create nuanced, layered, fleshed-out characters is incredible. 
A piece of advice you'd like to share with our readers?
No matter what it is you're working towards, stay on the path. I think a lot of young people, actors especially, believe that if it hasn't happened within a few years, it never will. That's just not the case. It's alright if you have to stop along the way, or even go backwards, but keep with it. As long as you're on the path, that goal will always be in sight. 
Spill details about your upcoming projects?
Nothing too interesting that I can spill right now, but be on the lookout! You may see me on your screen soon. (wink, wink!)