Heard of the quote, "When the going gets tough, the tough reinvent." Well, we think this one addresses our favorite type of queens: Drag Queen!
When fashion became a form of expression, drag queens were born!  The popularity of the drag culture increased in 1920 with drag balls where men dressed as women and completely nailed the look. Back then it surely was offensive to society, but it had already become an expensive career. Today, as we discuss, drag queens are equally respected and the profession is considered to be an exciting art.
The LGBTQ+ community is vast and colorful and has been given recognition in the past years, but we feel drag queens are still not there. Though we are proud, and to mark the LGBTQ+ pride month, we had to cover our favorite part. When talking about the queens, we had to include the most renowned & successful ones. Now if you don't know RuPaul, what world are you living in? Pabllo Vittar, Sasha Velour, Aquaria, Bianca Del Rio, Trixie Mattel, the list of the ones we admire can go on and on.
Speaking of fashion, do you know who the real styling connoisseurs? The drag queens; as they take it up a notch with their confidence, glamour, and fashion. However, over the years, they have evolved a bit and are ruling the world with their sequin dresses, wide shoulders, heels higher than most people's standard and of course, the dauntless makeup looks. The hair is all game when it comes to drag queens: massive, distinctive colored wigs rule their vanities!
For June, we thought of bringing to you attires that a drag queen would look terrific in 2022. We already applaud what they wear and while witnessing we picked up their secret, they wear one color from head to toe and then match their accessories & makeup accordingly. We have tried our best to style six fascinating looks for these queens, who, we know can pull it off effortlessly. Divas, dive in & steal the look for your next big show!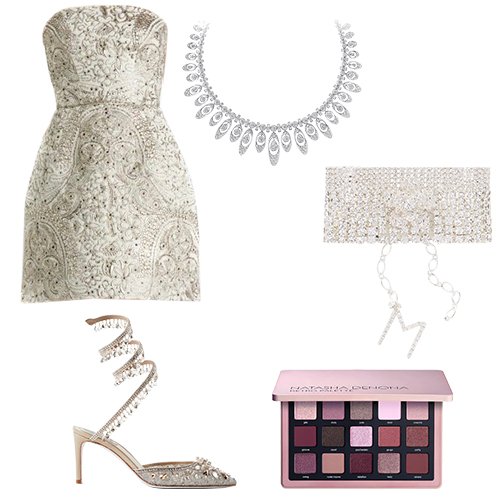 1. Monique Lhuillier, Metallic Jacquard Strapless
Cocktail Dress, Approx. `2,64,000 2. RENÉ CAOVILLA,
Embellished leather and lace pumps, approx. `1,28,070
3. Graff, Graff Gateway Diamond High Jewellery Necklace,
Price: on request 4. MAGDA BUTRYM, Silver-tone
crystal bracelet, approx. `61,390 5. Natasha Denona,
Retro Eyeshadow Palette, Approx. `6,000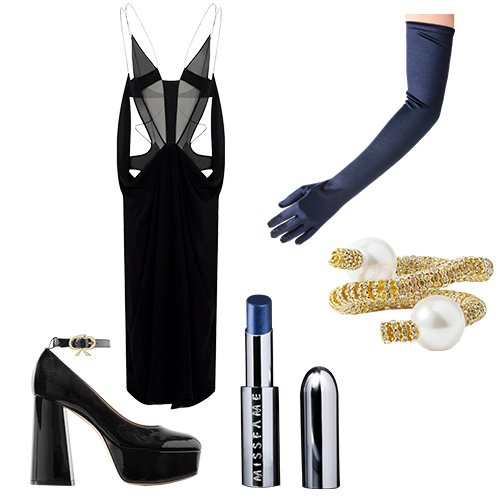 1. Mugler, Silk suspension dress, Approx. `2,12,750 2. Cornelia
James, Ariadne | Satin Opera Glove with Ostrich Feathers, Approx. 14,000 3. GIANVITO ROSSI, Vernice 70 patent-leather platform pumps, approx. 1,21,220 4. PEARL OCTOPUSS.Y, Snake
convertible gold-plated, crystal and faux pearl bracelet, approx. 30,520 5. MISS FAME BEAUTY, Dirty Couture Lipstick, Approx. 2,000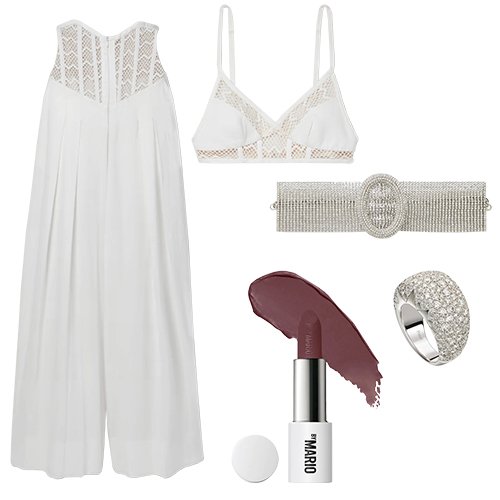 1. PATBO, Paneled tulle-trimmed woven
bralette, approx. `30,160 2. PATBO,
Tulle-trimmed woven wide-leg pants,
approx. `58,750 3. ALESSANDRA
RICH, Silver-tone crystal chainmail
choker, approx. `83,350 4. PIAGET,
Extremely Piaget Ring, Price: on request
5. MAKEUP BY MARIO, Ultra-Suede®
Lipstick, Approx. `2,000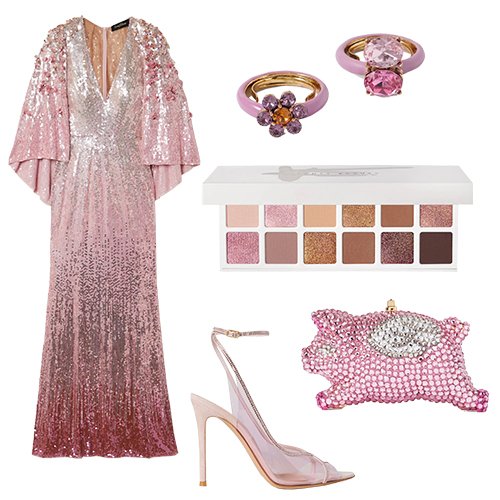 1. JENNY PACKHAM, Cape-effect embellished ombré sequined tulle gown, approx. `2,98,780 2. GIANVITO ROSSI, Crystelle 105 embellished leather-trimmed PVC sandals, approx. `1,01,610 3. OSCAR DE LA RENTA, Set of two gold-tone, enamel and crystal rings, Approx. 34,990 4. JUDITH LEIBER COUTURE, When Pigs Fly mini crystal-embellished gold-tone clutch, approx. `56,150 5. Fenty Beauty by Rihanna, Bomb Posse Mega Mix & Match Eyeshadow Palette, Approx. `4,000
1. AGR, Cropped brushed cotton-blend tank, approx. `46,510 2. AGR, Brushed cotton-blend mini skirt, approx. `49,850 3. BALENCIAGA, Cities distressed embroidered cotton-twill baseball cap, approx. `30,760 4. JACQUEMUS, Le Chiquito Osier leather and raffia shoulder bag, approx. `78,150 5. AMINA MUADDI, Holli Glass PVC and leather slingback pumps, approx. `73,300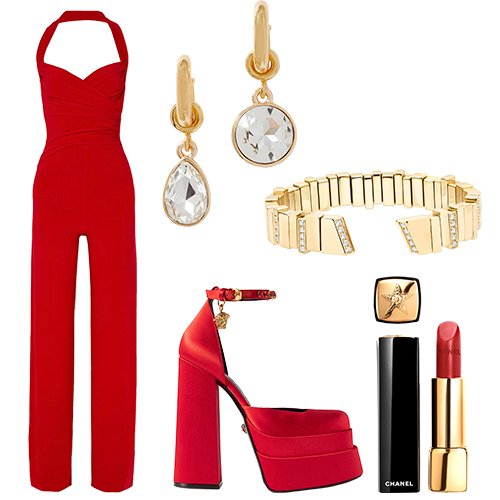 1. NORMA KAMALI, Cayla stretch-jersey halterneck jumpsuit, Approx. `23,000 2. VERSACE, Medusa Aevitas embellished satin platform pumps, approx. `1,61,500 3. PACO RABANNE, XL Link gold-tone and crystal earrings, approx. `50,300 4. GEM DIOR BRACELET, Yellow Gold and Diamonds, Price: on request 5. CHANEL, Rouge Allure Velvet La Comète Approx. 4,000